The Bold And The Beautiful Spoilers Wednesday, August 2: Steffy's Nightmare, Deacon's Damage Control
The Bold and the Beautiful spoilers for Wednesday, August 2 reveal that Steffy Forrester Finnegan's (Jacqueline MacInnes Wood) worst fear comes true.
Meanwhile, Sheila Carter's (Kimberlin Brown) view of the future concerns Deacon Sharpe (Sean Kanan). Will Deacon actually step in before a tragedy happens this time, though? Keep reading to find out what is coming up in the CBS soap opera.
The Bold And The Beautiful Spoilers – Steffy Forrester Finnegan's Worst Fear
B&B spoilers for Wednesday, August 2 reveal that Steffy's worst fear will come true. This might actually be two of Steffy's worst fears.
The first is losing another child, which nearly happened when John "Finn" Finnegan (Tanner Novlan) turned his back on Kelly Spencer (Sophia Paras McKinlay) at the beach. While Finn was busy on a phone call, Kelly nearly drowned and was saved by Sheila.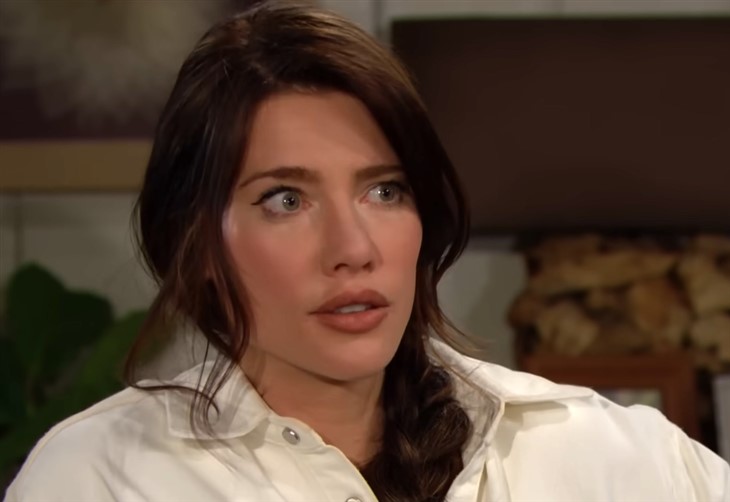 B&B Spoilers – Nightmare Comes True
Steffy's other fear is that Sheila will worm her way back into Finn's life. That means Sheila will soon try to get her way back into Steffy's life as well as Hayes Forrester Finnegan (Chase and Alexander Banks).
Now it is happening, especially with Kelly telling Steffy that Sheila saved her life. That should have come directly from Finn.
The Bold And The Beautiful Spoilers – Sheila Carter's Skewed Perspective
The Bold and the Beautiful spoilers for Wednesday, August 2 reveal that Sheila will continue reveling in saving Kelly's life at the beach. Sheila told Deacon all about what happened at the beach.
Deacon couldn't believe that Sheila was actually the one to save Kelly. Now Deacon is wondering if Sheila really could have a chance at getting to know Finn.
While Deacon might think Steffy will forgive Sheila after Kelly's life was saved, that's probably not going to happen.
B&B Spoilers – Wednesday, August 2
While Deacon is impressed and shocked that Sheila saved Kelly, he will have some concerns. Deacon knows how quickly Sheila can get hope from one tiny word or action. So, Deacon could fear that Sheila will once again become obsessed. As fans know, that always leads to tragedy, chaos or destruction.
Deacon has tried to reason with Sheila before. Deacon not interfering or speaking up led to the "SINN" tragedy. So, will something similar happen this time or could Deacon finally do the right thing?

Which storyline are you looking forward to seeing the most on Wednesday, August 2? What does the future hold for Deacon, Sheila, Finn, Steffy, Kelly and Hayes?
What are your predictions for Liam Spencer (Scott Clifton), Thomas Forrester (Matthew Atkinson), Ridge Forrester (Thorsten Kaye) and the other characters? Share your thoughts in the comment section below. Remember to keep watching the soap on CBS or Paramount+ to find out what happens next.
Be sure to catch up on everything happening with B&B right now. Come back often for The Bold and the Beautiful spoilers, news, and updates.