The Bold And The Beautiful Spoilers: Will Dollar Bill's Family Forgive Him When The Truth Comes Out About Sheila And The Sting?
The Bold and The Beautiful spoilers and updates tease after the truth comes out about Sheila Carter (Kimberlin Brown) and the sting Dollar Bill Spencer's (Don Diamont) family might feel differently. For the past several months, his family and friends as well have thought he's lost his mind or that Sheila hypnotized or drugged him.
The Bold And The Beautiful Spoilers – A Manipulative Past
Bill has manipulated others and done some pretty bad things in the past, but his family and close friends have never seen him do anything this bad. He's rejected all of them and glommed onto Sheila like a wet, rotten, dishrag and they can't believe what he's been doing. But what he's really been doing is more like trying to out-con a con-he's used those manipulative skills on Sheila hoping she'll play into his hands.
His house has been bugged and outfitted for the latest in cyber surveillance, all thanks to the FBI and Agent Alex Chen (Brian Yang). To top it all off, he and Ridge Forrester (Thorsten Kaye) have been working together on this sting to make sure Sheila's never a threat to their families again.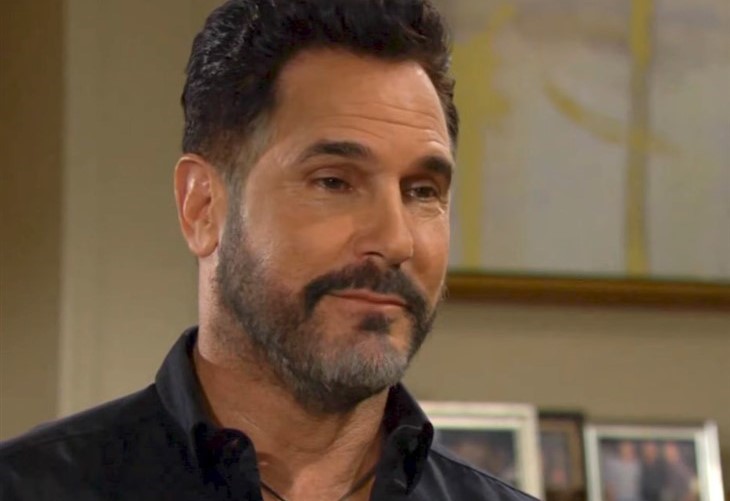 B & B Spoilers – Are The Risk And The Rejection Worth The Reward?
One thing that will determine whether Bill's family and friends will forgive him or not is if the risk he took and his rejection of them are worth the reward. Bill can scarcely stand himself when he's around her, and fake-romancing her, let alone what happens in bed-he probably feels like he'll never get the "ick" off him.
He's admitted as much to Ridge when they've been talking in the FBI surveillance center, with Ridge giving him advice how to hone in for "the kill". But much like Bill himself is thinking, if all his unbelievable efforts land Sheila in prison and away from them for good, the reward will be worth it.
The Bold And The Beautiful Spoilers – Forgiveness And Heroic Efforts
Bill's family and friends will likely not only forgive him, but applaud him for his heroic efforts if he is indeed successful in outmaneuvering and deceiving Sheila. Success is measured in confessions of murders that Sheila's gotten away with, like pushing Dr. Jay Garvin (Brett Stimely) off a balcony to his death.
She also got away with murdering Lance (Adam Huss) via bee sting allergy-there wouldn't have been enough Epi-Pens in the world to save him from an entire hive of bees.
Perhaps Lance's murder is the one he gets Sheila to confess to—then Bill can gloat at her in her cell and say, "The truth stings, doesn't it?!" Bill will have accomplished what no one ever has if things work out the way they've hoped-getting Sheila to confess herself into a life sentence or several consecutive ones.
Be sure to catch up on everything happening with B & B right now. Come back here often for The Bold and The Beautiful spoilers, news, and updates.