B&B Recap And Spoilers for Tuesday, March 28: Sheila Learns She's Been Duped, Brooke Offers Katie Advice
The Bold And The Beautiful spoilers Tuesday, March 28, 2023, reveals Bill Spencer (Don Diamont) is thrilled that Sheila Carter (Kimberlin Brown) opened up to him. Sheila wants to change the subject. Sheila is so happy. Sheila asked if that doesn't scare Bill. Bill has been waiting for this moment for a long time. all that matters is Sheila finally said it. Brooke Logan (Katherine Kelly Lang) and Katie Logan (Heather Tom) discuss Katie's son. Katie doesn't know what happened to the man she thought she knew.
The Bold And The Beautiful Spoilers – Bill Spencer Shocks Sheila Carter
Bill won't listen to Katie at all. Katie is trying to keep this relationship away from her son. Bill used to be a man who would do anything for his family. What is it about Sheila that would cause him to change so drastically? Bill is so pleased and relieved that Sheila finally confessed to him. Sheila knows Bill loves her. Sheila wonders if Bill is worried about how his family will react.
Bill promises Sheila there will be a huge celebration. Bill has to take care of something and will be right back. Bill calls to make sure Ridge got all of the confession on tape. Sheila walks in and overhears Bill on the phone. Sheila demands to know who she is talking to. Sheila wants to know why Bill would do this. Bill says it was a scheme to get the truth out of Sheila.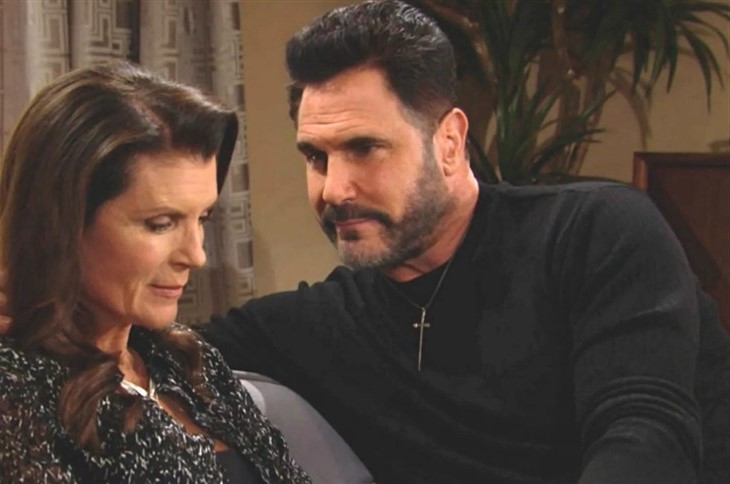 Bill tells Sheila that her confession will put her in prison for the rest of her life. Bill tells Sheila that her reign of terror is over. Sheila said she never terrorized Bill. Sheila says Bill cannot prove anything. Bill tells Sheila that the whole house is bugged. Sheila cannot believe Ridge is in on this. Bill never cared about Sheila, it was all an act. The FBI has been watching the whole time. The authorities are on the way.
Sheila tells Bill that his family hates her. Brooke and Katie hate Bill as well. Sheila says her son wanted to get to know her and Steffy Forrester wouldn't allow that. Bill tells Sheila she will never be a free woman again. Sheila runs at Bill and falls off the balcony. Bill looks down to see Sheila lying on the sidewalk outside his house.
The Bold And The Beautiful spoilers indicate Bill says Sheila finally opened up to him. Bill is going to give Sheila that future she so richly deserves. Brooke and Katie talk about how Bill doesn't talk when Sheila is around. Carter Walton (Lawrence Saint-Victor) arrives and interrupts their conversation. Brooke is worried that Carter will get upset over Katie discussing Bill. Katie says they have to be missing something. The father of Katie's son would not do something like this.
B&B Spoilers – Ridge Forrester Worries That Sheila Carter Will Escape
Ridge wonders why the FBI agents haven't gotten there yet. Agent Chen (Brian Yang) tells Ridge that it's not over, Sheila hasn't been arrested yet. Bill continues to make plans with Sheila and Ridge hopes he doesn't blow this. Ridge says Sheila will go to prison for life. Ridge and Chen watch helplessly as Sheila goes after Bill and falls off the balcony.
Be sure to catch up on everything happening with B&B right now. Come back here often for The Bold And The Beautiful spoilers, news, and updates.