Coronation Street Spoilers: Eliza Breaks Down After Humiliating Incident At School
Coronation Street spoilers, news, and updates tease that Eliza experiences embarrassment following the bloody incident in school.
Coronation Street Spoilers – Eliza Woodrow Connected With A Mystery Man Online Since Her Mom, Bridget, Moved To Another Prison.
One day, she asked Stu if she could join the holiday club and the loving grandfather immediately agreed. However, the man ended up disappointed when he realized that the said club didn't exist.
He started to look for his granddaughter everywhere until he spotted her with a strange man that she introduced as her dad, Dom Everett.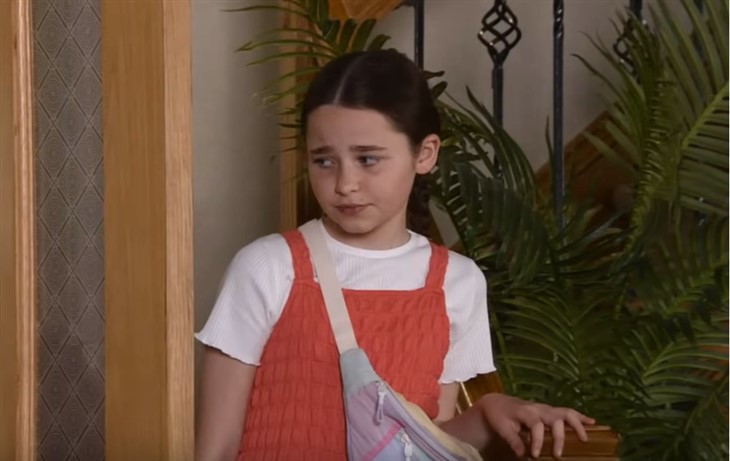 Meanwhile, Eliza heard Stu calling Bridget over the phone and telling her about the matter. The youngster then expressed her madness as Bridget wanted her to stop seeing Dom due to a bad history.
Stu apologized and Eliza continued to ignore the man until he lost his temper and caused more trouble between them.
Coronation Street Spoilers – Eliza Woodrow Gets To Spend Time With Her Dad
In the upcoming scenes of "Coronation Street," Eliza is all over the moon when her grandfather finally gives Dom a chance to spend time with her.
It all starts when the determined father meets the solicitors and tells Stu and Dee-Dee to drop their legal proceedings.
He then suggests coming to an agreement which Stu believes to be a bad idea. However, the grandfather gets a change of heart when Dom approaches him and states his desire to be a present dad to Eliza.
Upon hearing Dom's statement, Stu gives the man a chance and later meets him at the precinct alongside Eliza. The excited dad celebrates the moment and wants to go for an ice cream.
However, when he mentions that he forgot his wallet, Eliza assures him that her grandfather will pay for their order instead. She also reveals the compensation that Stu received after his wrongful conviction.
Coronation Street Spoilers – Eliza Woodrow Feels Embarrassed During Class
Moreover, the young lady couldn't hide her excitement when her dad invited her to watch a movie after school.
However, the moment turns sour when Eliza arrives home in tears and tells her grandfather that her period starts during PE class. Due to the humiliation, Stu tries to comfort Eliza as she loses her interest in seeing her dad.
Will Eliza recover from the huge embarrassment? Will Dom understand the situation? Or will this create tension between him and Stu?
Be sure to catch up on everything happening with Coronation Street right now. Come back here often for Coronation Street spoilers, news, and updates.