Coronation Street's Amy Barlow Learns Aadi And Courtney's Affair
Coronation Street spoilers, news, and updates tease that Amy Barlow caught Aadi and Courtney as she walked into the apartment.
In the previous episode of the longest-running soap, Amy and Aadi sparked romance in the cobbles when the young lady started working at Dev's shop. The two got an amazing friendship, especially when Aadi stood up for Amy against her rapist, Aaron. Now that they are always together, they seemed couldn't hide their romantic feelings toward each other.
However, love might not be developed as it was previously hinted that Aadi will have a romantic affair with a newcomer named Courtney Vance. The woman arrived in the cobbles alongside her husband, Darren, and they connected with Dev for some business meetings. Aadi was bound to assist Darren with his business plans but the youngster attended more of Courtney's events than be with the man in the entrepreneurial world.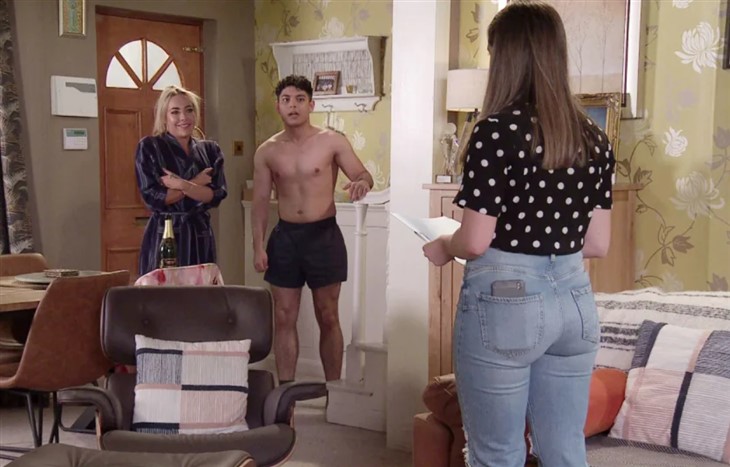 Though he was stunned with Courtney's elegance, Aadi's mind was still on the business meeting. As she is an entrepreneur herself, the woman showed enthusiasm to listen to Aadi's business ideas. Meanwhile, when the two were left in Darren's office, Courtney couldn't hide her adoration for the young man leading her to give him a peck on his lips.
Coronation Street Spoilers – Amy Barlow Gets Awkward with Aadi And Courtney
In the recent scenes of "Coronation Street," Aadi excitedly arrived for work as he has some figures to show to his boss, Darren. However, he ended up disappointed when the man told him to spend the rest of the day with Courtney. On the other hand, the woman was happy with the idea as she planned to have a steamy moment with Aadi again after they grab some lunch.
While the two got busy with their activity, Amy stepped foot on No. 7 to pick up some paperwork for Dev. As she was about to leave, the young woman caught Aadi and Courtney in an awkward state.
Coronation Street Spoilers – Will Amy Barlow Expose Aadi Alahan And Courtney's Affair?
Stephanie Davis Shares Thoughts About Her Current Storyline
During her recent interview, Stephanie Davis opened up her mind regarding her current storyline in the popular ITV soap. "It happens quite quickly. Courtney is definitely attracted to Aadi, but I think a lot of it comes from her relationship with Darren because he's cheated on her multiple times," she told Digital Spy.
"That obviously affects your self-worth and confidence so a lot of it is Courtney wanting to get once back on her husband, but she also wants someone to love her and Aadi shows that to her, giving her that affection," the actress continued.
Be sure to catch up on everything happening with Coronation Street right now. Come back here often for Coronation Street spoilers, news, and updates.