Coronation Street's Max Turner Opens Up Identity Issues To David Platt
Coronation Street spoilers, news, and updates tease that Max Turner voiced his personal struggles to his father, David.
In the previous episode of the longest-running soap, Max stepped foot to the cobbles once again as he nearly finishes his sentence. During a commotion in the STC classroom, the youngster stole Daniel Osbourne's phone to document the altercation. Meanwhile, when he returned the device to the former professor's desk, Daniel was left worried after witnessing Max's clip.
As a result, Daniel tried to help the young man and encouraged him to voice out his experiences inside the jail. However, Max refused to participate in the idea, leading Daniel to get his fiancée's spare phone and let the young man use it as a recorder. On the other hand, Daisy was left devastated after knowing that Max got her phone.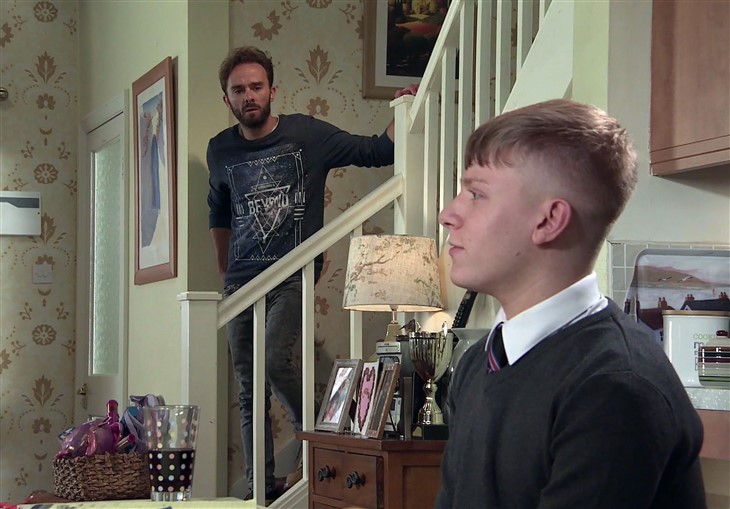 The avid viewers knew that the social media influencer used her spare phone to communicate with Ryan Connor as the Ibiza DJ, Crystal. As fear started to devour her, Daisy ordered her fiancé to retrieve the phone as soon as possible. Meanwhile, the acid victim got extremely ill and he recorded a message for Crystal before falling unconscious. Back in the STC classroom, Gav grabbed Max's phone and played the message from Ryan, leading the youngster to know that the man was in danger.
Coronation Street Spoilers – Max Turner Comes Clean About His Struggles
Meanwhile, Daniel approached the patriarch and opened up about Max's mental struggles. David then paid a visit to his son, who eventually voiced out his real feelings. The youngster started to question his existence as he lost his identity. Moreover, he expressed how he hated the way he acted.
After listening to his son's sentiments, David gave Max some uplifting words, reassuring him that he will always support and be with him every step of the way. He also voiced his love for the young man no matter who he turns out to be. Meanwhile, Max found himself feeling charmed with his new friend, Gav.
Will Max overcome his identity struggles?
Coronation Street's Spoilers – New Character Talks About His Role
Moreover, Noah Olaoye, the actor who plays the newcomer Gav, shared about his character in the cobbles. "He is not a bully. He is not someone who throws his weight around," he told Metro.co.uk.
"He is genuinely a likable guy but he does have a screw loose, so there is that side to him where people are afraid of him but not because he will push people around the classroom but because he going to do something slightly unhinged if you get on his wrong side," Olaoye added.
Be sure to catch up on everything happening with Coronation Street right now. Come back here often for Coronation Street spoilers, news, and updates.