Coronation Street's Sam Blakeman Tries to Impress Hope Stape On Their First Date
Coronation Street spoilers, news, and updates tease that Sam Blakeman did his best to look great as he went out on a date with Hope Stape.
Sam was popularly known in some of the previous dramatic scenes where he was unable to talk following the death of his mother, Natasha Blakeman. The avid viewers also got their hearts touched as they witnessed the progress of his relationship with his dad, Nick Tilsley (Ben Price). On the other hand, Hope recently got into a storyline where she got preoccupied with her late father's murderous background. Due to her obsession, the youngster showed odd behavior and even got suspended from school.
As Hope (Isabella Flanagan) and Sam encountered their different issues in the cobbles, the two characters always find comfort in their friendship. They have always been each other's someone to run to whenever things go wrong. Now that they are teenagers, Hope and Sam (Jude Riordan) are now taking their relationship to the next level.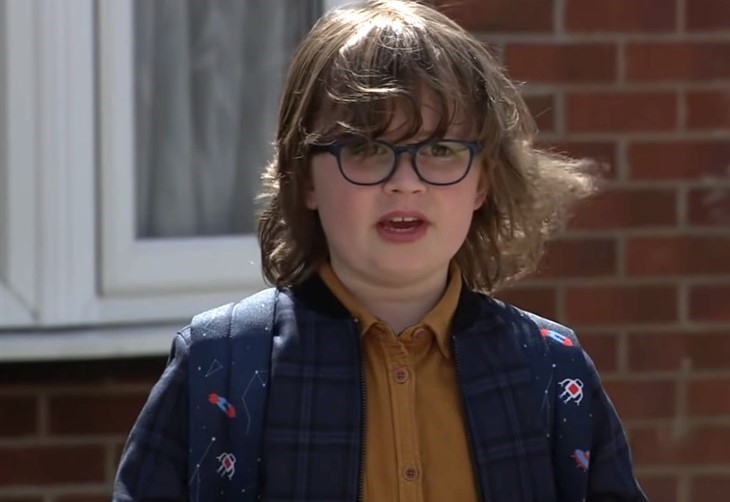 Coronation Street Spoilers – Sam Blakeman Presents Himself To His Date Hope Stape Formally
In the recent episode of the longest-running soap, the two iconic youngsters went on a date together for the very first time. Sam appeared in Hope's apartment dressed in a suit and tie and brought a box of chocolates. He even gave his date some words of compliment, but Hope didn't appreciate the idea. "Just be normal. You can be normal on a date," she stated.
"I can't believe you wore a suit," Hope added. As they were about to leave the house, the young woman approached Tyrone Dobbs (Alan Halsall) to ask for money for the cinema tickets and popcorn. On the other hand, Nick felt bad as he wasn't able to witness his son's new big step in his life. Following his involvement with Damon Hay's (Ciaran Griffiths) drug plans, Leanne (Jane Danson) and Sam threw him out of their home.
'Coronation Street' Spoilers – Producer Talks About Sam Blakeman And Hope Stape's Future Storyline
During his recent interview with Loose Women, Iain MacLeod teased his plans with the young characters. "We're going to be building a friendship with her and Sam Blakeman that will verge on a very innocent pre-teen romance a little bit and they try to navigate those waters," he stated. MacLeod also revealed that the partnership was inspired from the iconic duo, PJ and Duncan.
"That's what we're hoping to do – obviously both of those actors are so talented that they might very well be off to Hollywood by the time they're 14. But if we can keep them, we're trying to PJ and Duncan them up," he added.
Be sure to catch up on everything happening with Coronation Street right now. Come back here often for Coronation Street spoilers, news, and updates.