Nick Cannon Explains Why Ex-Wife Mariah Carey Doesn't Seem 'Human'
Nick Cannon loves fatherhood. And after welcoming his 12th baby into the world, Cannon recognizes that his fans feel curious about his relationships with his babies and their assorted mothers. As a result, Nick recently took time to reflect on his ex-wife Mariah Carey.
Find out why the comedian believes that Mariah doesn't seem like other humans. And learn what he shared about their marriage. Get all the details below.
Nick Cannon – Dishes On Ex-Wife Mariah Carey
Mariah Carey changed Nick Cannon's life. And even though the Masked Singer host has experienced other romances, he still views Carey as "the love of his life." Cannon made those comments after welcoming his 12th baby into the world in December. "Like the greatest? I mean, I always talk about that," said Nick about Mariah in an interview via Page Six.
"Then it goes viral, and our fans get mad at me. But I was 12 years old with Mariah Carey pictures on my wall, and that becomes my wife. And the fact that she's the coolest person I ever met," gushed Cannon. Nick became a father when he and Mariah welcomed twins Moroccan and Monroe, now age 11.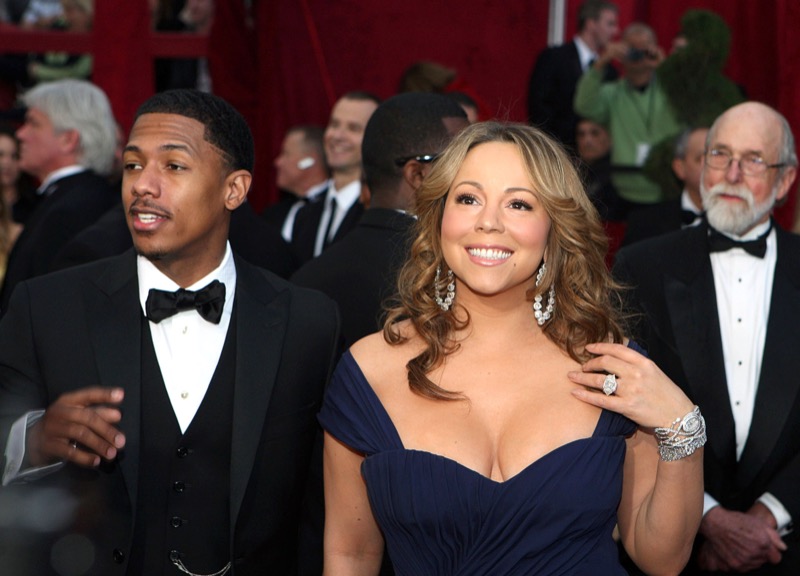 And even though the songstress and the Masked Singer host eventually divorced, Cannon will never forget the magic of his marriage to Mariah. "I get a lot of this delightful disposition from her," added Nick. "She's just always happy, always doing for others. No matter what's happening in life. I'm like, 'Wow, a person can really operate like that and don't allow negative energy into their space.' When I found out about how remarkable she was… that woman is not human. She's a gift from God," Cannon gushed.
Nick Cannon – Views Mariah Carey Marriage 'Like A Fairytale'
The Masked Singer host recently welcomed a baby girl with Alyssa Scott into the world. And little Halo Marie turned Cannon into the father of 12. However, she will share Nick with his son Legendary, daughter Onyx, and son Rise with Bre Tiesi, Lanisha Cole, and Brittany Bell, respectively. And Bell also co-parents son Golden, 5, and daughter Powerful, 1, with Cannon. In addition, Nick shares twins Zion and Zillion, 1, with Abby De La Rosa and a daughter named Beautiful Zeppelin.
YeeeeHawww!! 🤠 Y'all ready for another EPIC #TheMaskedSinger episode!? 🎭🎤Tomorrow is Country Night & you don't want to miss one moment! @MaskedSingerFOX at 8/7c on @FOXTV! pic.twitter.com/QwGd5rRRmH

— Nick Cannon (@NickCannon) March 21, 2023
But amid all the children and their respective baby moms, Cannon still gushes about Mariah. And Nick exclaimed that he will never "have a love like I had with Mariah. I'm a true believer in love," added the Masked Singer host. "And I allow the capsules of love to be where they lie."
But Cannon also appreciates the "fantasy" aspect of looking back on his marriage. And he clarified, "I'm not a timeline dude. It was literally like a fairytale with Mariah so I would rather it just be that way. I appreciate that fantasy," added Nick. "Because if I tried to go back and it wasn't the same, I'd be like, 'Damn, I messed it up.'" But if he could somehow get the opportunity for a redo, "if it could be the way it was, I'm there," confessed Cannon.
Tell us what you think. How do you feel about Nick Cannon's reflections on Mariah Carey? And after you share your views, check back on our site for more celebrity news.
Editorial credit: Everett Collection / Shutterstock.com