Selena Gomez Opens Up About Her Search For Her "Crush"
If you're anything like me, or Selena Gomez, you've probably come across the viral TikTok video that jokes about crushing on iconic, and to be honest, hot cartoon characters that don't exist… duh! Well, Gomez seems to think that her crush doesn't exist too, but that hasn't stopped her from searching.
Selena Gomez – Sends Fans Spiraling With Latest TikTok Video
Selena Gomez is single and looking for love. No, she's not accepting applications, because she has strict standards. Too strict, do you think?
In a new video shared on her rapidly growing TikTok account, Selena Gomez lip-synched to the now-recognizable TikTok audio that sarcastically says, "I hate it when girls are like, 'Oh my God, my crush doesn't even know that I exist.' Like, girl, my crush doesn't even exist!"
However, "The Only Murders in the Building" star added a twist to the oft-told tale by writing, "Still out here lookin for him lol." In the video, she rocked a pink button-up shirt and wore her brunette locks in curls.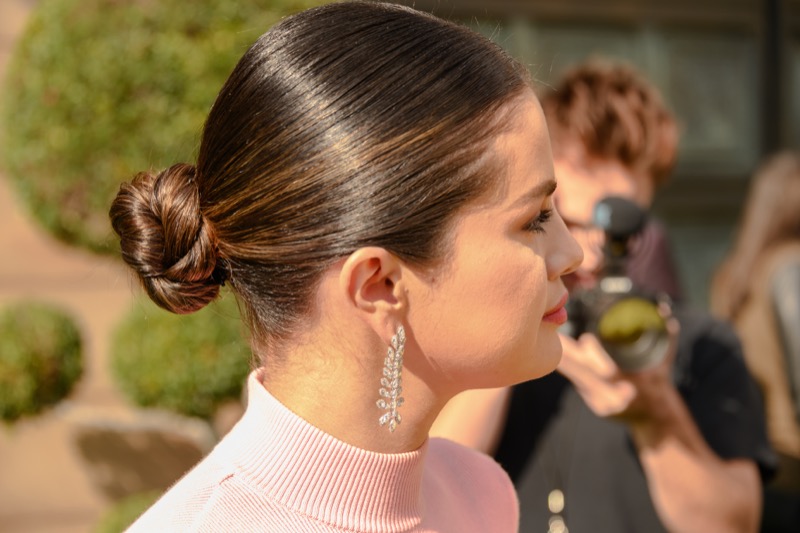 Selena Gomez has not been serious with anyone since Justin Bieber, who she dated on and off for several years before the "Believe" singer finally tied the knot and settled down with model Hailey Bieber. Since then, she's only briefly dated the Canadian multi-platinum artist The Weeknd, and there's even been rumors of a Chris Evans get-together.
Most recently, fans tied themselves into knots trying to prove there's a link between her and Chainsmokers' Drew Taggart when she was pictured at a bowling alley with him. However, she soon squashed the growing rumors by confirming that she's still single in a since-deleted tweet.
This is coming after some recent drama involving Selena Gomez, cosmetics mogul Kylie Jenner, and Hailey Bieber – Gomez and Bieber were previously pictured together at an event earlier this year – forced the "Love You Like A Love Song" singer to announce that she would be leaving social media again, just after announcing her comeback to Instagram.
Be sure to catch up on everything happening with Selena Gomez right now. Come back here often for all Selena Gomez spoilers, news, and updates.
Editorial credit: Silvia Elizabeth Pangaro / Shutterstock.com