Shania Twain And Brad Pitt Are Yet To Meet: 'I Think He's Avoiding Me'
What is it gonna take for the star of "Bullet Train" Brad Pitt to go see the "Any Man Of Mine" singer Shania Twain?
It's almost 25 years since she gave a shout-out to Pitt in her December 1998 hit single "That Don't Impress Me Much" and she's yet to be introduced to the actor.
The hit song "That Don't Impress Me Much" which was from her third studio album, "Come On Over" went on to become one of Twain's biggest hit songs. Yet, not even a "Hi" has been shared between them. They've never even met eye to eye.
Shania Twain — Twain "Honestly" Thinks Pitt Is Avoiding Her
Recently, the "Man! I Feel Like A Woman" singer sat with journalists and comedian Amelia Dimoldenberg over some chips in her Chicken Shop Date series.
There, the Canadian country musician said, "I wrote about Brad Pitt. I never met Brad Pitt, I think he's avoiding me — honestly."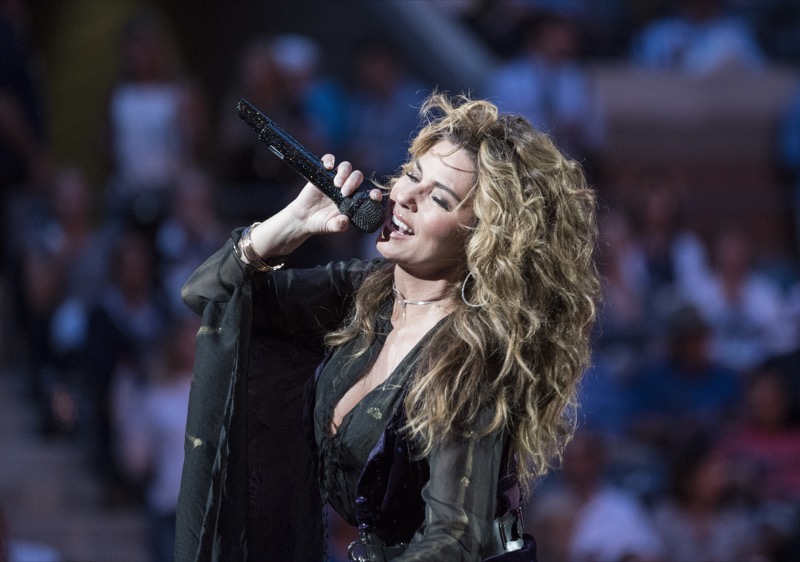 Unlike Pitt, the 57-year-old has met with other stars like Harry Styles whom she shared the stage with at Coachella 2022 as they performed two of her hit songs "Man! I Feel Like A Woman," and "You're Still the One."
Twain also mentioned to Dimoldenberg that Styles is "a lovely, lovely guy." Meanwhile, Dimoldenberg took that comment as an opening to ask Twain for the "As It Was" singer's phone number. Twain vehemently declined to give it out.
Twain said, "No, I couldn't. I'm too loyal. "I'd like to, but I can't. I like you, but I can't give you Harry's number. I could, but then I'd feel bad about it. I'm too loyal, and he gave it to me in confidence."
Shania Twain — Twain Also Shout Out To Channing Tatum
Recently, the Canadian songstress made some replacements where Pitt's name used to be in her song lyrics. She recently took to giving shout-outs to other actors that have taken her interest. She did so with fellow Canadian, Ryan Reynolds.
Last year December, during her performance at "People's Choice Awards," she mentioned the "Deadpool" actor's name in place of Pitt's and that seemed to have gladdened Reynolds' heart.
Pitt who granted a TikTok interview hosted by "The Movie Dweeb" replied when asked how he felt sharing the music nod with Reynolds, "I think we can share the wealth, Ryan's a good egg, too. He deserves some love."
To prove that he was very much okay with that, Pitt went ahead to suggest other movie stars worth giving a nod for Twain. "I think she should pass it on down and next time she can sing it to Austin Butler," he said. "Maybe Leo [DiCaprio] in between."
It may seem as though Twain took Pitt's advice however, instead of using the above-suggested names, she sang it with none other than our dear Channing Tatum's name.
She told "UK's Radio Times" magazine in an interview, "It's Channing Tatum. I'm trying to think how I would sing that…, 'Okay, so you're Channing Tatum' – yeah, that works,"
Be sure to catch up on everything happening with Shania Twain right now. Come back here often for all the Shania Twain's spoilers, news, and updates.
Editorial credit: lev radin / Shutterstock.com