Days Of Our Lives Spoilers: 3 Must-See DOOL Moments – Week Of March 27
Days of Our Lives spoilers for the week of March 27 reveal that there are three must-see moments. Fans can expect the people of Salem to find out that are alive. Leo Stark (Greg Rikaart) encourages Gwen Rizczech (Emily O'Brien) to use Alex Kiriakis (Robert Scott Wilson). Plus, the police interrogate Sloan Petersen (Jessica Michele Serfaty) while Paulina Price (Jackee Harry) suffers a panic attack.
Days Of Our Lives Spoilers – Kayla Johnson & Marlena Evans Saved
DOOL spoilers for the week of March 27 reveal that one must-see moment features Megan Hathaway (Miranda Wilson), Bo Brady (Peter Reckell), Kayla and Marlena. Fans can expect Steve "Patch" Johnson (Stephen Nichols) to confront Megan about Kayla. However, Megan will most likely deny knowing anything about Steve's wife.
There will be a fierce showdown between Megan and Steve. In the weekly promo clip, it appears that Megan gets the upper hand. However, soap stories like these always have a happy ending. It's not a matter of if, but when.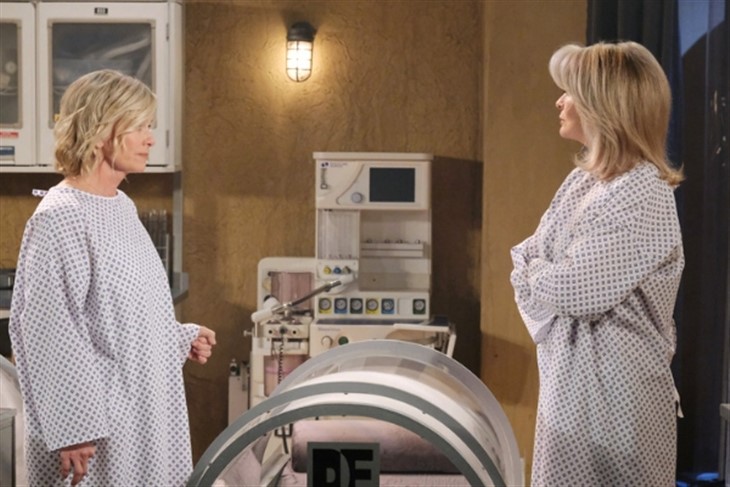 Kayla does reunite with Bo, but they don't immediately return to Salem. Instead, Bo takes Kayla to Greece. Specifically, to the home where Victor Kiriakis (last played by the late John Aniston) grew up. Kayla will be annoyed but Bo explains that this mission is important.
Steve will call Stephanie Johnson (Abigail Klein) to tell her that Kayla is alive. As for Marlena, she will reunite with Belle Brady (Martha Madison) and Eric Brady (Greg Vaughan) by the end of the week.
DOOL Spoilers – Leo Stark's Scandalous Advice
During the week of March 27, fans can expect Gwen to be torn about her love triangle. The man that Gwen really wants is Xander, even if she can't admit it. Even though Gwen seems to be having fun with Alex, she wants Xander's love the most of all. So, Leo will encourage Gwen to use Alex to make Xander jealous.
That's not the only trouble that Leo will get in, though. Chloe Lane (Nadia Bjorlin) braces herself when Brady Black (Eric Martsolf) reads the new column of Lady Whistleblower. Meanwhile, Rachel Black (Finley Rose Slater) visits Kristen DiMera (Stacy Haiduk) in prison. Rachel will demand answers from her mother regarding Chloe.
Days Of Our Lives Spoilers – Sloan Petersen Interrogated
Days of Our Lives spoilers for the week of March 27 reveal that Paulina will pressure Rafe Hernandez (Galen Gering) and Jada Hunter (Elia Cantu) to arrest Sloan. Meanwhile, Sloan tries to help Eric with a new career opportunity. Sloan will soon be blindsided, though. Sloan ends up being dragged down to the police station to answer questions.
DOOL Spoilers – More Must-See Moments
While Sloan is being interrogated by the police, Paulina suffers a panic attack. However, could this be a sign of something more serious? Could Sloan end up indirectly causing Paulina's health crisis?
Which one of these must-see moments are you looking forward to the most? Share your thoughts and remember to keep watching the soap on Peacock to find out what happens next.
Be sure to catch up on everything happening with DOOL right now. Come back often for Days of Our Lives spoilers, news, and updates.