General Hospital Spoilers: Josslyn's Pregnancy Exposes Her Relationship With Dex, Sonny Loses It
General Hospital (GH) spoilers tease that things could get very complicated for Dex Heller (Evan Hofer) and Josslyn Jack (Eden McCoy) in the weeks ahead. The two are trying to keep their little fling under wraps but were recently caught by Michael Corinthos (Chad Duell). Joss's brother made it crystal clear that if Sonny Corinthos (Maurice Benard) found out about the two, he'd be seeing red. With that said, Ms. Jacks and Mr. Heller continue to stay guarded, but if the young woman ended up expecting, would the proverbial cat be out of the bag?
General Hospital Spoilers – Things Are Complicated For Dex Heller, & Could Get Stickier
GH spoilers suggest that Dex will continue to have mixed emotions about Michael and their plan to bring down Sonny. The young henchman has revealed to Joss that he feels as if he owes Sonny his life and it doesn't feel right to bring the mob boss down anymore.
There's a good chance this storyline could go multiple ways. Dex may flat-out tell Michael he no longer wants to pursue their scheme anymore, or Heller could be outed as a mole in Corinthos's organization at some point.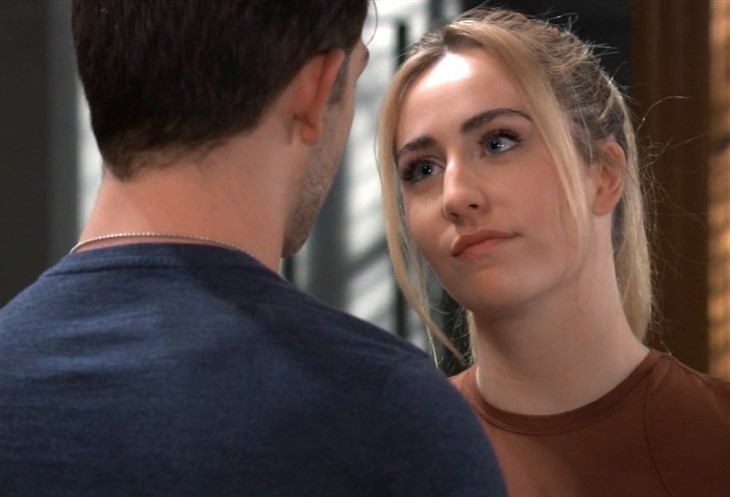 Regardless of either scenario, the last thing Dex wants is for his relationship with Joss to be exposed. Whether Sonny loves him or hates him, finding out that he's been with Ms. Jacks could send the mob boss over the edge. After all, he had explicit instructions a while ago to "stay away" from Joss, and he didn't. Corinthos will lose his mind.
GH Spoilers – Another Baby In The Family May Soften Sonny's Stance
Then again, if Sonny finds out that Dex has betrayed him, Joss ending up pregnant might be a good thing. Corinthos is all about family. He may be ready to seek revenge on Heller, only for Josslyn to reveal that the henchman is the father of her child. Sonny's heart may soften, and he could retract the idea of axing the young man. He knows how important a father is to a child's life, and the last thing he'd want to do is be the reason his pseudo-grandchild is without a dad.
Could Josslyn end up pregnant? Would this further agitate Sonny or spare Dex in a dire situation with the mob boss? Leave your thoughts below. Don't forget to tune into GH on ABC to see what happens next and visit GHT often for all the latest General Hospital news and spoilers.