Days Of Our Lives Spoilers: 3 Must-See DOOL Moments – Week Of September 18
Days of Our Lives spoilers reveal that there are three must-see moments during the week of September 18. Expect Shane Donovan (Charles Shaughnessy) to interrogate Theresa Donovan (Jen Lilley).
Maggie Horton Kiriakis (Suzanne Rogers) opens the briefcase holding all the evidence from Victor Kiriakis' (John Aniston) plane crash.
However, Maggie might not have the real evidence. Plus, Gwen Rizczech von Leuschner (Peter Porte) and Kristen DiMera (Stacy Haiduk) scheme together.
Days Of Our Lives Spoilers – Greek Truth Quest
DOOL spoilers for the week of September 18 reveal that Alex Kiriakis (Robert Scott Wilson) and Brady Black (Eric Martsolf) are in Greece searching for answers. Victor's death took everyone by surprise. However, Victor's last moments are quite perplexing.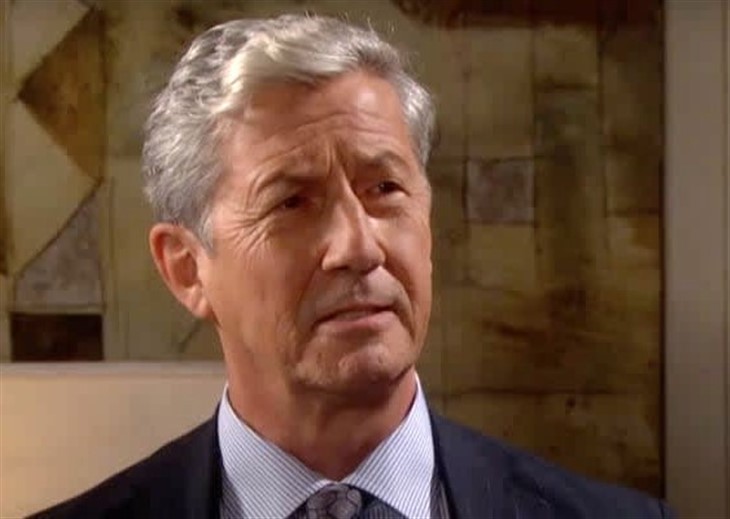 For one thing, why did Victor suddenly call his estate attorney to destroy his will without having a new one drawn up? Did Victor do this under duress?
Justin Kiriakis (Wally Kurth) seems to trust the estate attorney. However, the whole situation is fishy, especially now that Vivian Alamain (Louise Sorel) is back claiming to be Victor's real wife.
DOOL Spoilers – Theresa Donovan's Switcheroo
While Alex and Brady search for answers, Theresa lives it up with room service. However, Theresa is also scheming. In the fall preview clip, it is stated that there is a metal briefcase containing all of the evidence from Victor's plane crash.
MUST READ – DOOL Spoilers: Talia Hunter's Exit, Finds Out She's Pregnant & Leaves Salem
This briefcase eventually is handed to Maggie, who opens it up. Maggie suddenly gasps in shock, then Theresa is seen holding a similar briefcase.
So, it looks like Theresa switches the briefcases, but why? Is this some kind of desperate move to get Brady back?
Days Of Our Lives Spoilers – Shane Donovan's Return
Days of Our Lives spoilers for the week of September 18 reveal that another must-see moment features Shane. That's right, Shane Donovan is back.
However, Shane has some serious questions for Theresa. In fact, Shane seems to know what Theresa is up to. Shane asks Theresa how far she's going to take this scheme.
DoOOL Spoilers – Villains Scheme
Another must-see moment for the week of September 18 focuses on Gwen and Kristen. It is teased that Gwen and Kristen will scheme together.
Kristen ended up telling Gwen some difficult news about Dimitri von Leuschner (Peter Porte) and Leo Stark (Greg Rikaart). However, Gwen told Kristen that she was already aware of the scandalous affair.
So, what will Gwen and Kristen do to teach Dimitri a lesson he'll never forget? Will this eventually lead to O'Brien's exit as Gwen?
Which storyline are you looking forward to seeing the most during the week of September 18?
Share your thoughts in the comment section below. Remember to keep watching the soap on Peacock to find out what happens next.
Be sure to catch up on everything happening with DOOL right now. Come back often for Days of Our Lives spoilers, news, and updates.