Days Of Our Lives Spoilers: Eve Donovan Returns, Kassie DePaiva Reprises Role
Days Of Our Lives (DOOL) spoilers state that a shocking return is set for the week of July 31st, as Eve Donovan makes a major comeback. Actress Kassie DePaiva will reprise the role, a part she hasn't played since September 2020.
Days Of Our Lives Spoilers – Harris Michaels Gets Caught Off Guard
Days spoilers for the week of July 31st suggest that Harris Michaels (Steve Burton) will be surprised when he runs into his former flame at Bayview. Looks like Eve will be out of the slammer and spending some time at the facility as a new patient.
Added teasers hint that Harris will have to face some hard memories when he sees Donovan, as the two share a painful past. Digging into the DOOL history vault, back in 1988 when Harris first debuted in Salem, his storyline revolved around a bet he and some friends made about who could land Eve in bed, first. He did end up falling in love with her; however, she found out about the bet and was utterly humiliated. So much so, that she tried to take sleeping pills to kill herself. Thankfully, she didn't succeed. With that being said, he did try to apologize, but the two never made amends.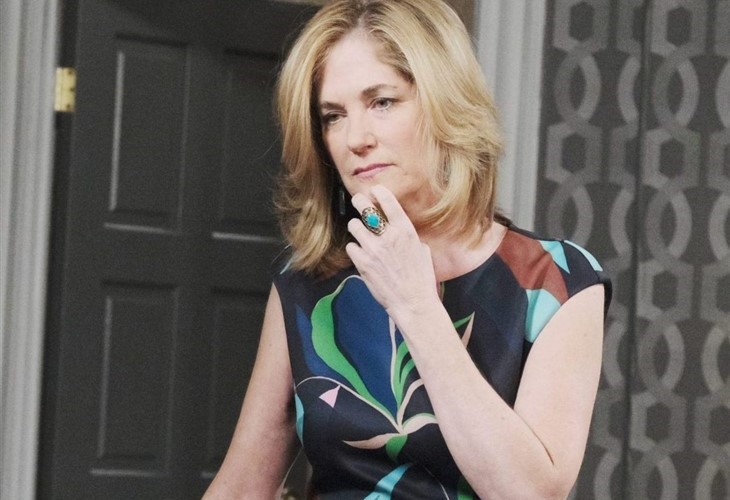 This was well over 35 years ago and it's clear that both characters have changed. So could there be hope for a reconnection?
Days Spoilers – Could Eve Donovan & Harris Michaels Have A Romantic Future?
Looks like Days is setting up a love storyline for Harris, bringing his ex, back on canvas. While actress Charlotte Ross did play Eve back then, it'll be interesting to see if Burton and DePaiva have chemistry between them. Now that Hope Williams Brady (Kristian Alfonso) is back with Bo Brady (Peter Reckell), Michaels could use some romance in his life. Can the two fall back in love, while at Bayview?
Eve will be struggling with past crimes and Harris will be dealing with his deprogramming debacle, so in some ways, they both will have to face their respective demons.
Are you excited about Eve Donovan and Kassie DePaiva returning to the show? Comment below! Catch the popular Peacock soap daily to see what happens next and visit this site regularly for the latest Days of Our Lives updates, news, and spoilers.