Days of Our Lives Spoilers Friday, March 8: Diana Plots To Take Out Marlena, Claire Betrays Tripp And Haley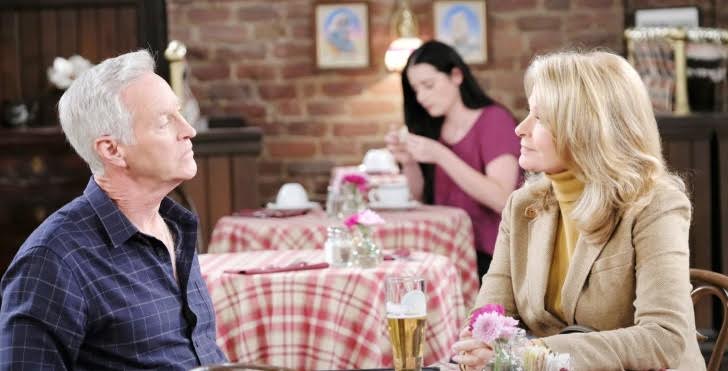 Days Of Our Lives John (Drake Hogestyn) wants to help Will (Chandler Massey) as Sonny (Freddie Smith) as well as protect Leo (Greg Rikaart) and will decide to break into Diana's (Judith Chapman) safe to do so.
Days of Our Lives – John Breaks Into Diana's Safe
Perhaps Will mentions Leo's desire to get into the safe to get his hands on whatever information Diana has on him there. John could undoubtedly be curious to see what Leo has done in his past since Diana refuses to give him any information. Will John help Will and Sonny if he finds damaging information?
DOOL Spoilers – Diana Decides On A Way To Eliminate Marlena
Days Of Our Lives Diana is determined to take John away from Marlena (Deidre Hall) and realizes that plan will only work if Marlena is dead. Diana's plan to use Victor (John Aniston) get cause Marlena to leave John has certainly not worked out.
Diana decides to kill Marlena and will choose her way to do that and put it into motion. Will John get to Marlena in time to save her? What will happen to Diana after this attempt on Marlena's life?
Days of Our Lives Spoilers – Jennifer Blasts Jack For Using Haley 
Days of Our Lives Jack (Matthew Ashford) has taken full advantage of Haley's (Thia Megia) situation and used it to get the endorsement for mayor of Salem. Jennifer (Melissa Reeves) is furious with Jack for using Haley and J.J. (Casey Moss) to further his political ambitions and will make sure that he knows it.
Jack has ruined Haley's life by exposing her immigration status as well as destroying J.J. and Haley's friendship. Will Jennifer convince Jack of the damage he has done to their son and Haley by using this information? Will J.J. ever forgive his father for betraying his trust?
A sight for sore 👀. #DAYS

📷: @ggering pic.twitter.com/2RaLO76Ila

— Days of our Lives (@nbcdays) March 7, 2019
Days of Our Lives Spoilers – Claire Betrays Tripp And Haley
Days of Our Lives Tripp (Lucas Adams) has assured Haley that she is safe at the loft and she believes him. However, Tripp's girlfriend Claire (Olivia Rose Keegan) is furious that he has chosen to hide Haley from the police. Claire is jealous of any woman Tripp decides to talk to or be friends with, she tried to kill her aunt because of her jealousy and will stop at nothing to get rid of Haley.
Will Claire call Hope (Kristian Alfonso) and arrange for her to discover Haley's presence at the loft? Will Claire make an anonymous call to Lani (Sal Stowers) and Eli (Lamon Archey) or immigration officials? Will Tripp forgive Claire for turning his friend in when he has tried to save her?
Read more Celebrating the Soaps news, spoilers, and gossip on our Days Of Our Lives homepage