Young And The Restless Spoilers: Nikki Plays Hero And Villain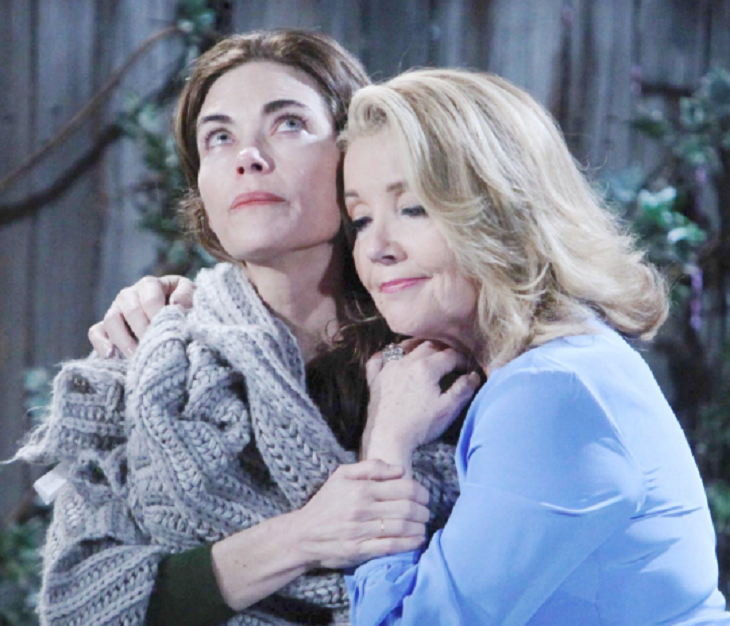 Nikki (Melody Thomas Scott) has done right and wrong by her family on the Young and the Restless (Y&R). The instinctive, parental act of bravery she exhibited on April 13, 2018, has since been dashed by needless duplicity. Now, despite Brittany's (Lauren Woodland) wise strategy of grilling Rey (Jordi Vilasuso), Vickie's (Amelia Heinle) future is at risk.
It didn't have to be this way, because J.T. (Thad Luckinbill) was purposely transformed into a one-dimensional, irredeemable villain who had to be written off. Luckinbill only signed-on for a limited run of his reprised character and Y&R wanted to project an arc based on a specific topic push.
In this storyline, a character who longtime viewers knew as a good guy was revealed as a morphed monster. The reasons given for J.T.'s switch involved his repressed feelings regarding Colleen's (Tammin Sursok) death.
Young And The Restless – Nikki Has Justifiably Killed Three People
These feelings were stoked into the open by the type of momentary career setback that someone with his skill set could have overcome, if given time. But Luckinbill's intentionally doomed character was never given a chance to seek help, or be restored to grace.
Why then was Nikki also written from true hero stature to someone who now needs to redeem herself? This part of the plot is arguably weaker than J.T.'s rapidly forced self-destruction.
Thomas Scott's iconic alter ego has thrice killed, with each instance being legitimately justifiable. Nikki permanently stopped her father, who was a multi-victim abuser, decades ago. She also reacted in self-defense, killing the deranged Dianne Jenkins (Maura West) earlier this decade.
Young And The Restless – Will Viewers Enjoy A Satisfying Outcome?
Last year, in a third act of valor, Nikki burst into Vickie's room, saw J.T. threatening her daughter with what appeared to be mortal intent, and conked him on the back of the head with a brass fireplace poker.
Nikki was subsequently convinced by Phyllis (Gina Tognoni) to hide what happened from the authorities and then to bury Mr. Hellstrom in the park that was named in honor of her beloved friend, Katherine Chancellor (played by the late, great Jeanne Cooper), all of which was a major logical stretch.
Loyal Y&R viewers, who've suspended disbelief for an inordinate number of months (just over 10, to be exact) want to see a believable outcome. A satisfying outcome would allow many on both sides of the screen to move forward.
One storyline wrap option would be to somehow restore Nikki's dignity. Here's hoping the show's decision-makers have, or will do so.
The Young And The Restless Spoilers: Paul's Return Telegraphed By Rey's Legal Problems – Christine And Husband Enforce The Law#YRhttps://t.co/63RfXjtZhn

— SOS/CTS/HH (@SoapOperaSpy) March 7, 2019
This site is a leading source for everything linked to the Young and the Restless.
Read more Celebrating the Soaps news, spoilers, and gossip on our The Young & The Restless homepage