Days Of Our Lives Spoilers: Gwen's Baby Discovery, Lies To Xander About Paternity?
Days of Our Lives spoilers reveal that Gwen Rizczech (Emily O'Brien) recently slept with both Xander Cook (Paul Telfer) and Alex Kiriakis (Robert Scott Wilson). Gwen is still hurt by Xander Cook's (Paul Telfer) confession. Then, things got worse the night after Gwen slept with Alex. So, could Gwen get pregnant and lie to Xander about the baby belonging to Alex?
Days Of Our Lives Spoilers – Xander Cook's Confession
DOOL spoilers reveal that even though Xander tried to fix his relationship, Sarah Horton (Linsey Godfrey) filed for divorce. However, there was a snag and the divorce papers were lost at the courthouse. That led to Xander wondering if it was a sign that he could have another chance with Sarah.
However, when Xander was honest with Gwen, she wasn't as understanding as she has been in the past. Gwen was deeply hurt and heartbroken by Xander's confession regarding Sarah.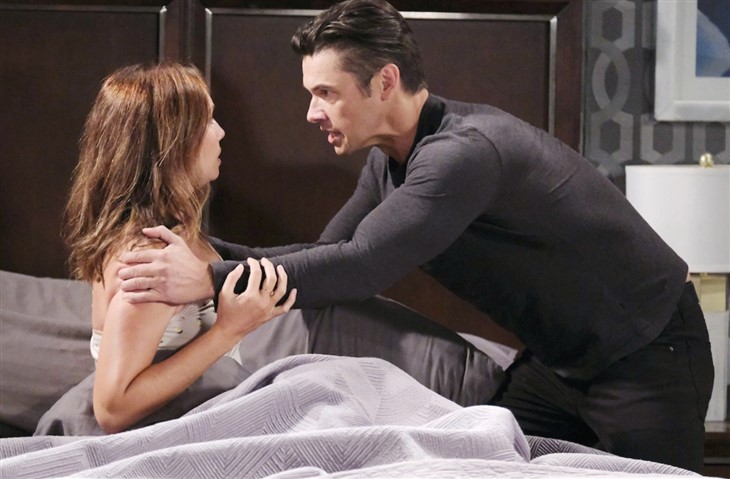 DOOL Spoilers – Alex Kiriakis' Run-In
When Gwen went to drown her sorrows in booze, Alex crashed her private pity party. The two soon got to talking about their problems. Gwen told Alex about Xander and Sarah. Then, Alex talked about Victor Kiriakis (John Aniston) and Maggie Horton Kiriakis (Suzanne Rogers). Then, the two ended up in bed together.
While Gwen initially freaked out, Alex reasoned that they are both single, consenting adults. Once Gwen ran into Xander at the office, though, things spiraled out of control. Gwen told Xander about her night with Alex. The two began to bicker and then went their separate ways. Unknown to Gwen, Xander confronted Alex and told him to stay away from the newbie editor-in-chief.
That is when Xander and Alex both declared that they were the better man for Gwen. So, we already have a new love triangle brewing.
Days Of Our Lives Spoilers – Gwen Rizczech's Baby Discovery
Days of Our Lives spoilers reveal that soaps tend to create a pregnancy and "who's the daddy" storyline quite often. So, Gwen sleeping with both Xander and Alex would provide an opportunity for another paternity storyline.
DOOL Spoilers – Paternity Lie Ahead?
Gwen might find out she is pregnant, but that doesn't mean she will be completely honest with Xander and Alex. If Gwen's hurt reactions toward Xander are any indication, she might not tell him that he's going to be a father.
After all, Gwen will want to hurt Xander as much as he hurt her. Gwen also knows that Xander played daddy for a while in the Sarah/Kristen DiMera (Stacy Haiduk) baby switch storyline. So, Gwen might know that Xander would secretly love to be a father. It also would be just like Gwen's character to hurt Xander by lying and saying the baby belongs to Alex.
Of course, the truth always comes out eventually in soaps. Let's just hope that if Gwen lies about paternity, it doesn't drag on for too long. Plus, will this ruin any chance of her having true redemption?
Be sure to catch up on everything happening with DOOL right now. Come back often for Days of Our Lives spoilers, news, and updates.