Days Of Our Lives Spoilers: Paulina And Chanel Bake Plot With Steve, Rawlings Dismissed
Days of Our Lives spoilers and rumors tease Paulina Price (Jackée Harry) and Chanel Dupree (Raven Bowens) may strike back with decisive action.
After acting Mayor Clint Rawlings (Greyson Berry) shut Sweet Bits down, with Steve Johnson's (Stephen Nichols) help, they're able to find actionable cause for his dismissal-and Paulina takes over!
Days Of Our Lives Spoilers – The Bedford Scandal Hit When Paulina Price Ran For Governor
The Bedford scandal, and Sloan Petersen (Jessica Serfaty) with it, hit when Paulina ran for governor-that's why she had to shut her campaign down.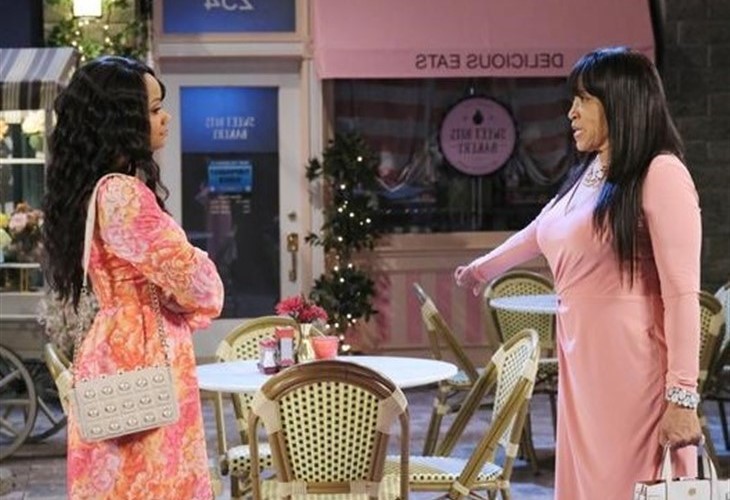 Remembering that gives Paulina an idea-if she and Chanel can find proof of some scandal in Rawlings' past, they can have him dismissed.
Abe Carver (James Reynolds) doesn't have enough of his memory back to take back the mayor's office, they have to do something, even though he's willing to try.
Paulina and Chanel talk to Steve about their idea, and he agrees something needs to be done. Steve learns through Jada Hunter (Elia Cantu) that Rawlings just appointed a totally unfit Shawn Brady (Brandon Beemer) police commissioner-he keeps that in mind as a backup.
DOOL Spoilers – The Deep Dive Is On
The deep dive is on for dirt on Rawlings, although they may be able to use the situation with Shawn as a backup-Shawn's suspension for drinking on the job just lifted.
But that doesn't mean Shawn's problems are all solved, or that he's ready for the responsibility of being police commissioner, and that is a worry for both him and Salem.
Rafe Hernandez (Galen Gering) would have put him on desk duty and then eased him back in to full detective responsibilities when he had more of a handle on things.
As for Paulina, she studies the local laws and some files that Abe kept at home to make sure that she can legally take over-and a new election can't be called.
Rawlings has already stated his intentions to take over as Mayor indefinitely, given Abe's condition-he plans to declare him incompetent!
Days Of Our Lives Spoilers – This Problem Has To Be Solved
All are in agreement that this problem has to be solved, especially with Rawlings' intention to take over as Mayor indefinitely, declaring Abe incompetent.
That means at least three years until another election, which is what is left of Abe's term. Paulina gets busy studying up on the issues of Salem and other things she'll need to know to take over for Abe when they bust Rawlings.
One thing to consider is that it seems certain people are being targeted-and Paulina and Chanel get busy checking who else doesn't have the proper Salem sticker.
If they find other certain business owners who don't have their current sticker and he hasn't shut them down, then they've got him!
Be sure to catch up on everything happening with DOOL right now. Come back here often for Days Of Our Lives spoilers, news, and updates.