Days Of Our Lives Spoilers Thursday, March 30: Rachel Visits Kristen, Chloe's Rachel Twist, Leo Encourages Gwen
Days of Our Lives spoilers for Thursday, March 30 indicate Rachel Black (Finley Rose Slater) will pay her mother, Kristen Dimera (Stacy Haiduk) a visit at Statesville. Chloe Lane's (Nadia Bjorlin) rant about Rachel hits The Spectator. Leo Stark (Greg Rikaart) will encourage Gwen Rizczech (Emily O'Brien) to use Alex Kiriakis (Robert Scott Wilson) to make Xander Cook (Paul Telfer) jealous.
Days Of Our Lives Spoilers – Rachel Black Visits Kristen Dimera
Days Of Our Lives spoilers reveal that Rachel will decide she needs to have a conversation with her mother. Rachel will make her way to Stateville to see her mother and demand some answers. After all, Kristen has been gone most of Rachel's life and she wants to know why. Kristen has also recently agreed to tell Rachel not to be so hard on Chloe Lane.
Rachel may want to know why her mother suddenly had a change of heart about Chloe. Rachel may want to know why her mother is in prison too. Will Rachel get the answers she needs from Kristen or will she get a lot of excuses? Will Kristen tells Rachel that she will be gone for a while and to keep the peace with Chloe until Kristen is released?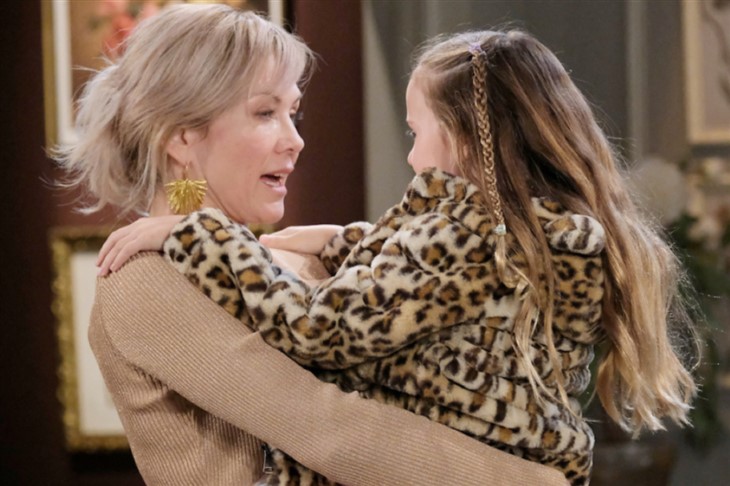 DOOL Spoilers – Chloe Lane's Rachel Rant Hits The Spectator
Chloe, of all people, should know not to open her mouth just anywhere. Leo hates Chloe for ruining his relationship with Craig Wesley (Kevin Spirtas). Chloe may not have been the only one involved but she had enough involvement to turn Leo against her and Brady Black (Eric Martsolf) as well. Now Leo has the chance to get his revenge.
Chloe should have done some damage control and told Brady what was going on. Brady would have easily understood that Kristen baited her and she fell for it. However, Chloe tries to bribe Leo by getting him clothes from Basic Black. Will Chloe be able to make things right with Brady before it is too late? Can Brady and Chloe get things back on track now that Kristen is in prison?
Days Of Our Lives Spoilers – Leo Stark Encourages Gwen Rizczech
Leo will encourage his best Gwen to use her newfound connection with Alex to get what she wants. Gwen is enjoying spending time with Alex but she also still loves Xander. Gwen is upset that Xander refuses to commit to her because he is still hung up on his ex-wife, Sarah Horton (ex-Linsey Godfrey). Could Leo's plan work or is he completely off base?
Meanwhile, Wendy Shin (Victoria Grace) and Tripp Johnson (Lucas Adams) have grown closer since Wend's last fight with Johnny Dimera (Carson Boatman). Wendy has been attracted to Tripp for some time. Will Wendy and Tripp take a chance on romance now that Johnny has betrayed her? Will Wendy end up giving Johnny another chance instead?
Be sure to catch up on everything happening with DOOL right now. Come back here often for Days Of Our Lives spoilers, news, and updates.