Days Of Our Lives Spoilers: Vivian's Ultimate Revenge!
Days of Our Lives spoilers tease that Salem residents are still reeling from the news that Victor Kiriakis' (the late John Aniston) plane crashed. Victor's remains were discovered, leaving no doubt that the ruthless businessman was gone for good. But there are still more questions than answers surrounding this tragedy.
Victor was nowhere near where his friends and family thought he was. So where did Victor go? And does any of this have to do with the impending return of Vivian Alamaine (Louise Sorel)?
Days Of Our Lives Spoilers – Vivian Alamaine Once Loved Victor Kiriakis!
Longtime viewers may remember that Victor and Vivian have quite a bit of history.
Vivian fell in love with Victor although in recent years especially, Victor has been repulsed by the very sight of Vivian.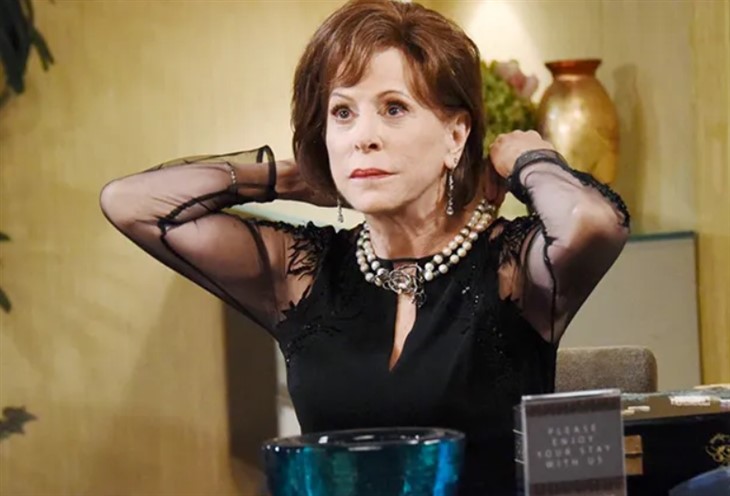 Victor has been in love with Maggie Kiriakis (Suzanna Rogers) for years now and nothing Vivian could do would change that.
Perhaps Vivian's more vengeful side decided to take the ultimate revenge against Victor for shunning her. But would she go as far as murder to get her revenge?
DOOL Spoilers – Vivian Alamaine Has A Bone To Pick With Stefan DiMera!
But if It's not Victor that Vivian is after, then why will she soon be back in Salem stirring up trouble?
Vivian has spent the last several years in prison for her various crimes. In fact, she was in jail when her beloved son Stefan DiMera (Brandon Barash) returned from the dead last year.
She was none too pleased with Stefan when he neglected to come to see her in prison after years of believing he was dead and gone.
Vivian may be mad enough at Stefan to seek some sort of revenge against him as well, perhaps even targeting his new wife, Gabi Hernandez (Camilla Banus).
Days Of Our Lives Spoilers – Vivian Alamaine Is Trouble With A Capital "T"!
Whether it was Victor or Stefan that Vivian wanted revenge against, or even someone else, she is sure to cause trouble wherever she turns up. The citizens of Salem had best be prepared for the return of Vivian.
Kate Roberts (Lauren Koslow) should take particular care. The feud between Kate and Vivian has gone on for decades and its quite possible that Vivian won't rest until Kate is dead, even if she has to bury her alive to make that happen.
One thing is for sure, whatever Vivian is planning spells trouble for Salem!
DOOL Spoilers – What Do You Think?
Did Vivian have anything to do with Victor's plane crash? Will she seek revenge against Stefan for ignoring her? Or is Vivian about to destroy Kate once and for all?
Anything can happen in Salem so stay tuned to Days of Our Lives streaming every weekday on Peacock.
And don't forget to check back right here regularly for all your Days of Our Lives news, information and spoilers!