Days Of Our Lives Spoilers: Mistress Of The Mansion-Not As Far As Vivian Is Concerned; Megan And Vivian Clash?
Days of Our Lives spoilers and rumors tease that someone won't honor Megan Hathaway's (Miranda Wilson) self-proclaimed title of mistress of the mansion! Once Vivian Alamain (Louise Sorel) arrives, the two strong-willed women will definitely clash!
Days Of Our Lives Spoilers – Hang On, Mama's Coming!
Megan immediately took over as soon as she was let out of Statesville and moved into the DiMera mansion-no warning was given to anyone there, including EJ DiMera (Dan Feurreriegel)! And Megan made sure she got there first, delaying her promise to Kristen DiMera (Stacy Haiduk) who got her immunity deal later. Of course there was some dealmaking still to be made with the newest DiMera, Dimitri von Leuschner (Peter Porte) over Andrew Donovan (Colton Little).
Megan didn't give anyone else a clue about bringing her son in the mansion either, and she clashed with EJ, and the other resident DiMeras. Tony and Anna DiMera, (Thaao Penghlis, Leann Hunley) Stefan DiMera (Brandon Barash) and his fiancée Gabi Hernandez (Camila Banus); soon it gets back to Stefan's mother Vivian.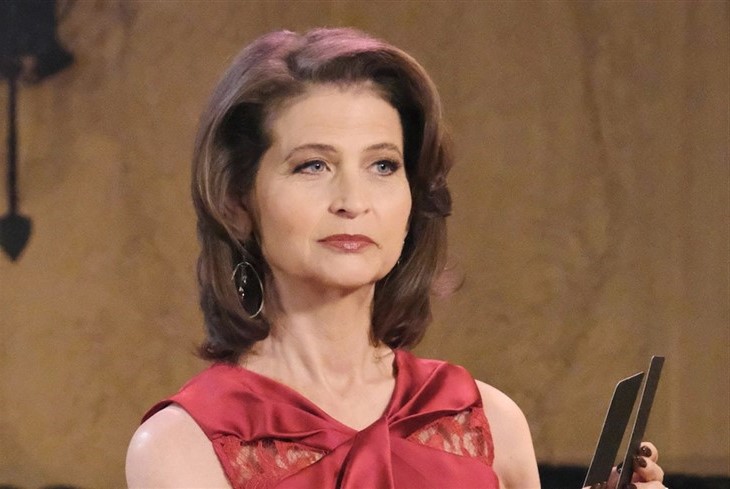 DOOL Spoilers – Balance Of Power Disturbed
Vivian is disturbed that with two new DiMeras, Megan and son, and Stefan again soon married to Gabi Hernandez (Camila Banus) that the balance of power is disturbed. She's even more disturbed that Megan, who she heard of but didn't know, and Kristen, who she knows got immunity and released but she didn't! Vivian couldn't even mourn the son she only met once, Stefan's twin Jake DiMera (Brandon Barash) properly; although she probably knows Stefan has his heart. But Vivian must get immunity and released as soon as possible; one, to check out this Megan and her son and two, to talk sense into her own son about Gabi! She remembers all too well Gabi's shenanigans after Stefan died the first time, then hooking up with his brother to get at the DiMera money.
Days Of Our Lives Spoilers – Megan Hathaway And Vivian Alamain Clash
Poor EJ didn't know what hit him to begin with, with his older sister he'd never met moving in, taking over, and disagreeing with his choice of women all at once! Megan made her displeasure known over literally every DiMera wife and girlfriend, deeming none of them worthy of the DiMera name (even though she kept Hathaway)! Vivian, Megan, Gabi, Anna, and Nicole Walker (Arianne Zucker) are all very strong women, as well as Kristen and all have strong personalities.
But no one clashes harder than Vivian and Megan, Vivian wanting her to produce a birth certificate showing she's Stefano DiMera's (Joseph Mascolo) daughter and Dimitri's as well! Likewise, challenged to the max, Megan demands birth certificates for Stefan and Jake, each woman accusing the other of being interlopers!
Be sure to catch up on everything happening with DOOL right now. Come back here often for Days Of Our Lives spoilers, news, and updates.