Days Of Our Lives Spoilers: Xander Finds Out Sarah Is Expecting, Dumps Gwen
Days of Our Lives (DOOL) spoilers hint that Sarah Horton (Linsey Godfrey) will soon find out she's pregnant. While she did recently sleep with Rex Brady (Kyle Lowder), the baby she's carrying is likely Xander Kiriakis's (Paul Telfer) child. Should Gwen Rizczech (Emily O'Brien) be worried?
Days Of Our Lives Spoilers – Will Sarah Horton Try And Pass Off Rex Brady As The Father?
Days spoilers suggest that upon finding out about her pregnancy, Rex will offer Sarah a solution. During this week's DOOL preview, the video reveals that a blunder at the courthouse will be discovered. Turns out, Xandy and Sarah are still technically married as their divorce papers did not go through. That won't be the only revelation that surfaces in the days ahead (pun intended), as Ms. Horton will discover she's also expecting. In the video, she tells Rex what she has discovered, and a scene flashes to the both of them in what looks like a hospital room as Mr. Brady exclaims, "We're having a baby!"
Sarah, Rex, and Days fans know that the baby Horton is carrying is Xander's. But will Xandy clue in, too?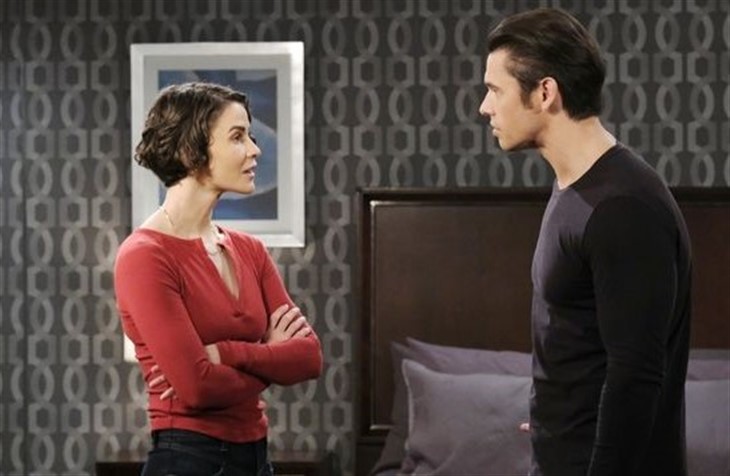 DOOL Spoilers – Xandy Realizes The Truth, Dumps Gwen Rizczech
Days spoilers indicate that as the weekend hits, Xander will believe he and Sarah may have a second chance. Added teasers for the week of March 6th imply that Gwen will suffer heartache at the hands of Xander, once again. Will Xander learn about Sarah's pregnancy and dump Rizczech? If the two are not only still married, but there's a baby on the way, there still may be hope for the Xarah romance.
With that said, it takes two to tango. Despite Horton's circumstances, a baby does not change the lies and secrets Xandy told during their marriage. Not to mention the fact that he ran straight to Gwen as soon as his relationship with Sarah went south. Xander has made a ton of terrible life choices as of late and allowed his dark side to take over. Can a baby and fatherhood redeem him?
Do you think Xandy and Sarah have another chance at romance with this baby? Have your say in the comments section below. Don't forget to tune in regularly to your favorite Peacock soap to see how the drama unfolds. If you miss a show, no need to fret! Visit this site daily for the latest in Days news, spoilers, and updates!