DOOL Spoilers Weekly Update: Delivery Crisis, Vivian's Attack, Theresa Snoops
Days of Our Lives spoilers for the week of September 11 are in. Sarah Horton's (Linsey Godfrey) life is in danger after the baby arrives. Maggie Horton Kiriakis (Suzanne Rogers) and Julie Williams (Susan Seaforth Hayes) feud with Vivian Alamain (Louise Sorel).
Plus, Theresa Donovan (Jen Lilley) digs for information about Alex Kiriakis (Robert Scott Wilson) and Brady Black (Eric Martsolf).
Days Of Our Lives Spoilers – Weekly Recap
DOOL spoilers for Monday, September 11 reveal that everyone will be reeling from Vivian's claims. Justin Kiriakis (Wally Kurth) becomes determined to get to the truth.
Meanwhile, Sarah has her baby. However, Sarah's life will be in danger following the delivery. Fans can also expect Shawn Brady (Brandon Beemer) and Talia Hunter (Aketra Sevillian) to drown their sorrows together.
Plus, Theresa reunites with Stephanie Johnson (Abigail Klein) and Kayla Johnson (Mary Beth Evans).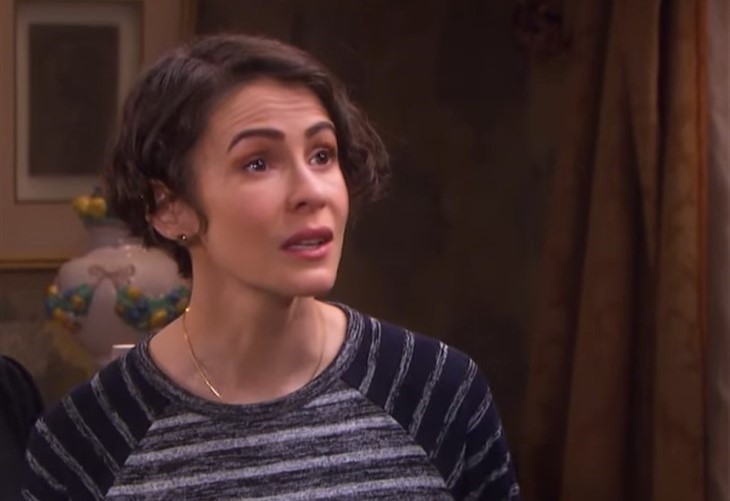 DOOL Spoilers – Week Ahead
On Tuesday, September 12, fans can expect a shooting to rock Salem. Chanel Dupree (Raven Bowens) grapples with her torn feelings. Plus, Harris Michaels (Steve Burton) and Ava Vitali (Tamara Braun) go on the run.
Days Of Our Lives – Upcoming DOOL Spoilers
Days of Our Lives spoilers for Wednesday, September 13 reveal that Rafe Hernandez (Galen Gering) searches for Harris and Ava.
Shawn and Belle Brady (Martha Madison) have a public fight. EJ DiMera (Dan Feuerriegel) will find himself in hot water. Meanwhile, Johnny and Chanel face a tough decision.
DOOL Spoilers – Thursday, September 14
On Thursday, September 14, fans can expect Theresa to snoop for information about Alex and Brady's trip to Greece. Belle continues to fret about Shawn's drinking.
READ THIS: Find out what happens next on Days Of Our Lives.
Chanel tells Johnny that she is ready to move forward with their rekindled relationship. Elsewhere, John Black (Drake Hogestyn) and Marlena Evans (Deidre Hall) have a surprise for the amnesiac (Dick Van Dyke).
Days Of Our Lives Spoilers – Friday, September 15
Brady and Alex's trip to Greece faces a complication after a shocking discovery. Vivian interrupts Stefan DiMera (Brandon Barash) and Gabi Hernandez-DiMera's (Camila Banus) scheme.
Speaking of Vivian, she will argue with Maggie and Julie. Plus, Leo Stark (Greg Rikaart) is boggled after Gwen Rizczech von Leuschner's (Emily O'Brien) revelation. How will Gwen's bombshell admission affect Leo as well as Dimitri von Leuschner (Peter Porte)?
Which storyline are you looking forward to seeing the most during the week of September 11? What are your predictions for Brady, Theresa, Alex, Stephanie, Stefan, Gabi and Vivian?
What are your predictions for Julie, Maggie, Ava, Harris, Shawn, Belle and the other Salemites? Share your thoughts in the comment section below. Remember to keep watching the soap on Peacock to find out what happens next.
Be sure to catch up on everything happening with DOOL right now. Come back often for Days of Our Lives spoilers, news, and updates.