All The Reasons We Love General Hospital Scott Baldwin
Say it isn't so. Scott Baldwin (Kin Shriner) is being written off General Hospital. What are they thinking?
Many GH legacy characters were center stage again during the revival of Victor Cassadine (Shaughnessy) and the Ice Princess storyline. It was great to see the world being saved once again by Laura Collins (Genie Francis), Anna Devane (Finola Hughes), and Holly Sutton (Emma Samms).
Scott Baldwin had a pivotal role in the drama when he was chloroformed by Holly and called the WSB as soon as he woke up.
Fans love Scotty and have since Kin Shriner first appeared on GH in 1977. These are just a few reasons why.
Scott Baldwin caught the bouquet at Luke and Laura's wedding
Any fan of General Hospital, and even some non-fans, know the story of Luke and Laura. They went on the run from the mob, then went on to save the world from the evil Cassadines.
When the super-couple first got together, Laura was very married to Scott. Needless to say, he was not too happy when his wife left him for Mr. Spencer.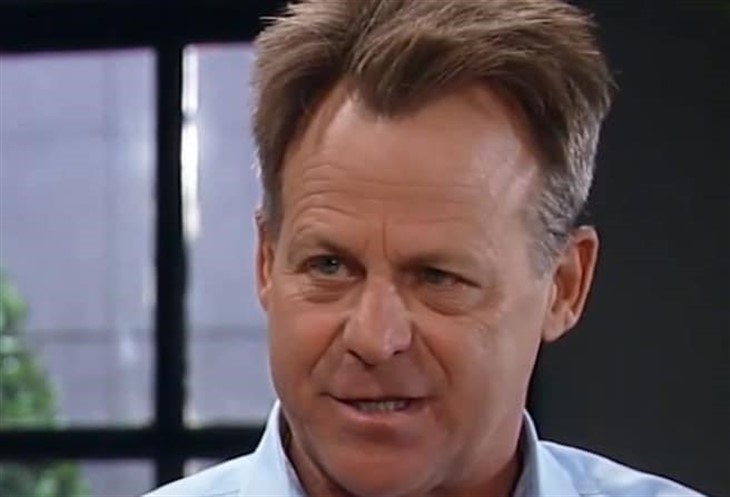 Luke and Laura's wedding was legendary, but one of the greatest scenes was when the bride threw the bouquet and her ex appeared out of nowhere to catch it. He proclaimed he was contesting his and Laura's divorce.
The groom then jumped over the ledge and Luke and Scotty had an epic fistfight. One of the best scenes ever on General Hospital.
What would Elizabeth Baldwin do without Scott?
Elizabeth Baldwin (Rebecca Herbst) has had a rough few years. She lost her beloved husband Franco Baldwin (Roger Howarth), then had a nervous breakdown. Getting involved with Nikolas Cassadine (Marcus Coloma) when he kidnapped Esme Prince (Avery Kristen Pohl) was not the smartest move.
Through it all, Scott has stood by his daughter-in-law and helped get her out of trouble. He has become a father figure to her and a grandparent to her three boys, especially since her own parents have not been there for her.
With her oldest son Cameron Webber (William Lipton) away at college, Elizabeth will have a very hard time losing Scott.
Scott Baldwin and Liesl Obrecht are a fan-favorite couple
Liesl Obrecht (Kathleen Gati) has gone from being a villain to a much-loved character on General Hospital. It was a brilliant surprise to couple her up with Scott Baldwin.
The two bonded over the loss of their beloved Franco and it quickly turned into something more. They were loving and funny at the same time. It was a joy to watch.
Unfortunately, Liesl blamed Elizabeth for the death of her daughter, Britt Westbourne (Kelly Thiebaud), and could not forgive Scott for defending his daughter-in-law. But fans held out hope that this couple would somehow find their way back together.
If Scott is gone, that will never happen.
The loss of Jacqueline Zeman
Sadly, General Hospital recently lost a member of their family. Jacqueline Zeman, who played Bobbie Spencer on the soap for 45 years, passed away on May 10th.
GH has not announced as of yet how they will deal with the loss of the actress and her character.
Scotty and Bobbie go back decades. They had a tumultuous relationship when they were young. She loved him but he loved Laura.
Through the years, the two have had their ups and downs but their friendship and bond became strong. They are two legacy GH characters.
It would be a shame if Scott wasn't around to mourn the loss of his lifelong friend. He deserves that.
There are many other reasons why Scott Baldwin should remain on General Hospital. Fans love Scotty!