General Hospital Spoilers Wednesday, May 24, 2023: Ava Congratulates Nina, Curtis Confesses, Diane's Terrible Truth
General Hospital spoilers for Wednesday, May 24, 2023 show that Ava Jerome Cassadine (Maura West) offers her congratulations, Portia Robinson (Brook Kerr) and Jordan Ashford (Tanisha Harper) wipe the slate clean, and T.J. Ashford (Tajh Bellow) gives Molly Lansing Davis (Hayley Pullos) a nudge.
Also, Curtis Ashford (Donnell Turner) and Drew Cain (Cameron Mathison) bring each other up to speed, Diane Miller (Carolyn Hennesy) gives Carly Spencer (Laura Wright) a heads up and Sam McCall (Kelly Monaco) puts Alexis Davis (Nancy Lee Grahn) on the spot.
General Hospital Spoilers – Wednesday, May 24, 2023: Ava Jerome Cassadine Doesn't Hold Back
When Nina Reeves (Cynthia Watros) tells Ava that she and Sonny Corinthos (Maurice Benard) are engaged to be married, a look of horror and surprise just might wash over her bestie's face.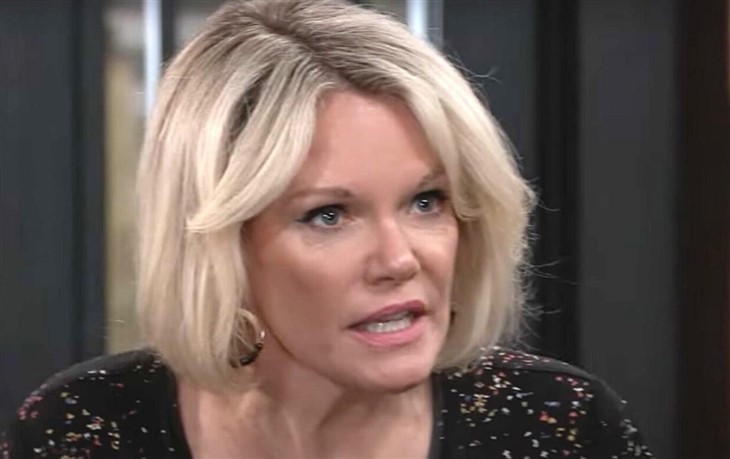 Of course, Ava always does the polite thing. She'll issue her congrats, but that doesn't mean she thinks this is a wise move.
General Hospital Spoilers – Say Portia Ashford And Jordan Ashford Clear The Air
When Portia approaches Jordan, Curtis's ex-wife might have that steamy kiss heavy on her mind. How can she clear the air with Portia when she was just making out with her husband? Things are about to get messy for these two.
GH Spoilers — T.J. Ashford Encourages Molly Molly Lansing Davis
As Molly is spiraling and blaming herself for their fertility problems, T.J. is going to remind her that they have options and he doesn't blame his domestic partner for any of this.
Will she take his words to heart, or is this the point at which these two might start to divide?
General Hospital Spoilers – Hint Curtis Ashford And Drew Cain Catch Up
Drew will be surprised to hear that Curtis is worried he may have given up on his marriage to Jordan too easily. Is there a reason they've been dancing around each other all this time? What was the point of him finding Portia again if he was still harboring these feelings for his ex anyway?
GH Spoilers — Diane Miller Lays It Out For Carly Spencer
Carly has options, but she's not going to like any of them. Diane will give her fair warning as she preps Carly for the fight ahead with the SEC. Is there any way out of this without Carly and Drew having to turn on one another to protect themselves?
General Hospital Spoilers — May 24 — Alexis Davis Is Too Quiet For Sam's Liking
Sam is going to be taken aback when her mother sits by and doesn't insert the opinions and unsolicited advice everyone knows she's sitting on. What gives? This must be about Kristina Corinthos Davis (Kate Mansi).
Which storyline are you most looking forward to following on GH on Wednesday, May 24th? Let us know, and keep checking back for more GH news and spoilers.