General Hospital RUMOR: Jason Morgan And Sam Leaving Town For Romantic Reunion?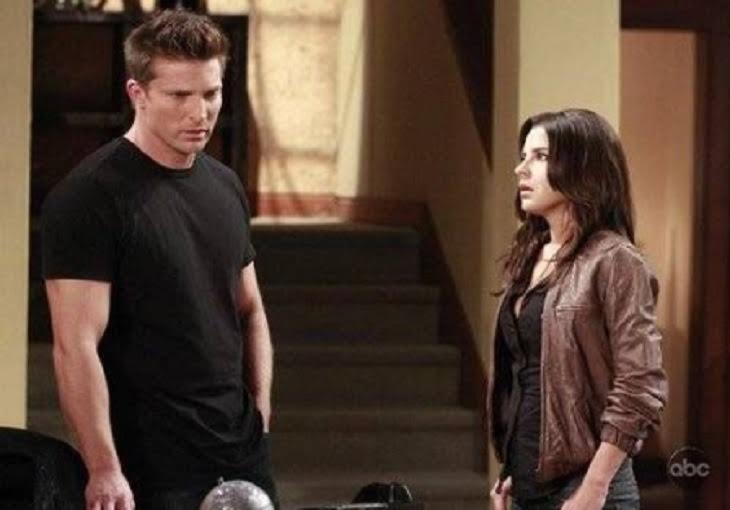 Sam (Kelly Monaco) and Jason (Steve Burton) were close to making love when Alexis (Nancy Lee Grahn) burst into her apartment unannounced. The next time they were alone, Drew (Billy Miller) show up. Will the third time be the charm?
Sam Has Invited Jason To Pursue Her
Sam has asked Jason not to back away this time. Will Jason go all out to get back the love of his life? Sam and Jason have several places they used to disappear to for makeout sessions. Jason knows that Sam loves for him to cook for her as well. Jason could invite Sam to his place this time, but we know people randomly appear at Jason's house as well. Sam and Jason may want to try another destination for their reunion.
There's Always The MetroCourt
Sam and Jason could easily get a room at the MetroCourt. Carly (Laura Wright) would make sure everything meets their specifications and certainly try to prevent interruptions. However, Sam and Jason may not want to hear Carly's " I told you so" at this point so they may want something more private. After all, Sam and Jason are private people; they don't need anyone to know exactly when they are making love.
As Ryan's facade crumbles, he turns to a familiar face to help sort things out. Can Kevin use the meeting to his advantage?
A brand-new #GH starts RIGHT NOW on ABC! @thejonlindstrom #GH55 pic.twitter.com/LCPiOwMLDD

— General Hospital (@GeneralHospital) October 15, 2018
They Like The Outdoors
Historically, Sam and Jason have taken off on the bike and went to the mountains and made love under the stars. However, after six years, both of them are going to want more than a quicky in the woods. Jason loves Sam and is not going to want to rush their first time together. They need a reunion like the one in Mexico, without the element of danger but with complete privacy.
They Have The Honeymoon Cabin
Sam and Jason have the honeymoon cabin that he built for her years ago. We have not seen the cabin since early 2012. Sam wouldn't have gotten rid of that cabin and going back there might have been too hard before. However, I'm sure Sam has made sure the cabin is secure. No one knows that cabin exists because of the fact they told no one about it. There would be no interruptions at the cabin from anyone in Port Charles. Sam and Jason could spend the weekend there alone. Jason could take food to cook with them, and their reunion would be spectacular.
Sam and Jason need some alone time, maybe not more than Jasam fans need them to have that time, but they need it now. One of them needs to remember the cabin and skip town for the weekend and give fans what we want.