General Hospital Spoilers: Ava Befriends Esme, Helps Raise Nik's Son
General Hospital spoilers suggest that Ava Jerome (Maura West) may have a change of heart about Esme Prince (Avery Kristen Pohl) and help her to raise her son. With Nikolas Cassadine (Adam Huss) presumed dead, Will Ava take it upon herself to see that his child is taken care of?
General Hospital Spoilers – Ava Jerome Loves Trina Robinson
General Hospital spoilers reveal Ava is very close to Trina Robinson (Tabyana Ali). Ava knows that Spencer Cassadine (Nicholas Chavez) wants custody of this baby. However, Esme and Spencer are doing things together with him like they are a family. Ava certainly doesn't want Trina to get hurt by Esme again so she could befriend Esme to keep this from happening.
Of course, Ava would be pretending to be Esme's friend to catch her faking her amnesia. Esme is being a bit too obvious with her demands but no one has been able to get solid proof. Ava may decide that she needs to put a stop to this before Trina is heartbroken once again. After all, Ava and Esme have a lot in common in some ways.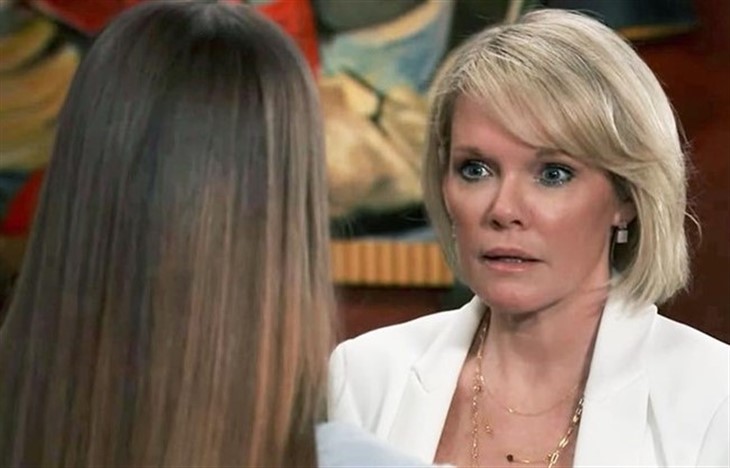 GH Spoilers – Ava Jerome Sees Herself In Esme Prince
Ava was never one who cared about anyone else's feelings, including her own daughter. Esme is pretty much the same. Esme slept with Nikolas as a means to an end. Of course, Ava struck a deal with Nikolas when they got together as well. Ava knows all about using people because she is a master at it. Ava can use her knowledge to hopefully work with Esme.
Esme needs a friend since Spencer and Victor Cassadine (Charles Shaughnessy) are both after her son. Rumors suggest that Victor will kidnap the baby against even Spencer's wishes. Ava may be the only one who will side with Esme to get her child back. Ava knows that Nikolas would never be ok with this. Will Ava step in and help Esme save her son from Victor?
General Hospital Spoilers – Ava Jerome Misses Her Daughter
Ava may have an ulterior motive for doing this. Ryan Chamberlain (ex-Jon Lindstrom) killed Ava's daughter. What better way to get revenge than to take Ryan's daughter? Ava could pretend to be friends with Esme only to get rid of her later on and keep the baby for herself, at least until Nikolas pops up alive.
Esme's baby is innocent in all of this but he certainly deserves a better deal than life has given him. Esme's child has been born into a family of psychopaths. Can Esme's child live a good life with the family he has? Will Ava step in and give this baby the life he deserves?
Be sure to catch up on everything happening with GH right now. Come back here often for General Hospital spoilers, news, and updates.