General Hospital Spoilers: Bensch Plays Dirty – Kiki And Griffin's Secret To Be Exposed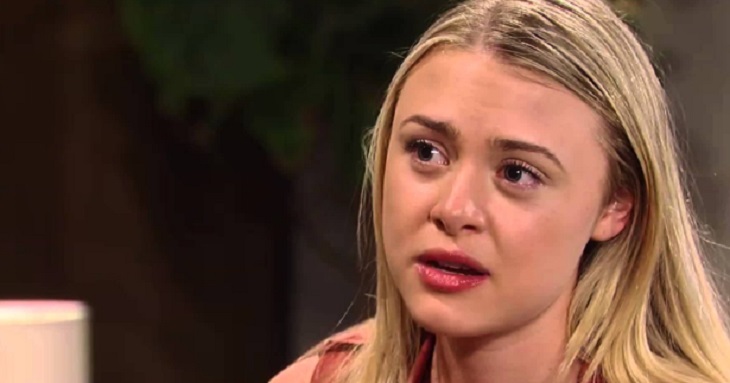 General Hospital spoilers indicate that Kiki's worst nightmare might soon become a reality. That's because Dr. Bensch is doing whatever he can to not only discredit Kiki, but ruin her life in the process. If that weren't enough, Kiki is also worried about her little tryst with Griffin, as it will sure enough blow up in her face.
In fact, Hayley Erin, who plays Kiki on the show, recently told ABC Soaps in Depth, "There's so much strength in what she's doing, but she's doubting herself in every step of the way."
To make matters worse, Dr. Bensch intends to use a photo of her and Griffin to discredit her. Even though the photo doesn't say much, the evil doctor will definitely try to use it to his advantage. It's a moment when Griffin was comforted Kiki in the hospital hallway.
LOVE GH?  SUBSCRIBE TO OUR GENERAL HOSPITAL NEWSLETTER, HERE!
Hayley explains, "The photo's innocent, but it opens the door. Bensch is a predator and a master manipulator, so he's going to take what he has and run with it."
But then again, General Hospital spoilers indicate Kiki and Griffin are still hiding a huge secret: they slept together during a heated night of passion. It's without a doubt that they can't let her mother Ava know about this. Unfortunately, it won't take very long for this secret to make its way all over Port Charles. After all, there's nothing that is kept quiet for a long time in this town!
Of course, fans will just have to tune in for all of the action. General Hospital airs weekdays on the ABC network. Check your local listings for times. In the meantime, drop us a line with your thoughts in our comments section below.
General Hospital airs weekdays on the ABC network.
---
Read more news, spoilers, and gossip on our General Hospital homepage
Want up-to-the-minute soaps news, spoilers, and gossip on your social feeds? Just hit 'Like' on our Facebook page.