General Hospital Spoilers: Cody Shocks Dante With Paternity Test News
General Hospital spoilers and updates tease that Cody Bell (Josh Kelly) spills the paternity test beans to Dante Falconeri (Dominic Zamprogna) after having a close call. Mac Scorpio (John J. York) visited Cody at the stables, and the paternity test fell out of his pocket and Mac had picked it up.
General Hospital Spoilers – Cody Bell Feels Like A Complete Idiot
General Hospital spoilers show Cody made the decision to lie about the results of the paternity test he and Mac took because he wanted the Ice Princess necklace but now he feels like a complete idiot. Cody and he had bonded over Australian beer and talking about horses when Mac dropped in on him at the stable, but he'd found the test earlier. He'd put it in his pocket but then it fell on the floor and now Mac picked it up, and Cody lied again.
He took it from him before he could read it but Mac had seen it was from GH, so Cody made up a story about needing money and selling plasma. He wanted to tell Mac the truth but chickened out, fearing rejection because of his earlier lie and not knowing how to explain his actions.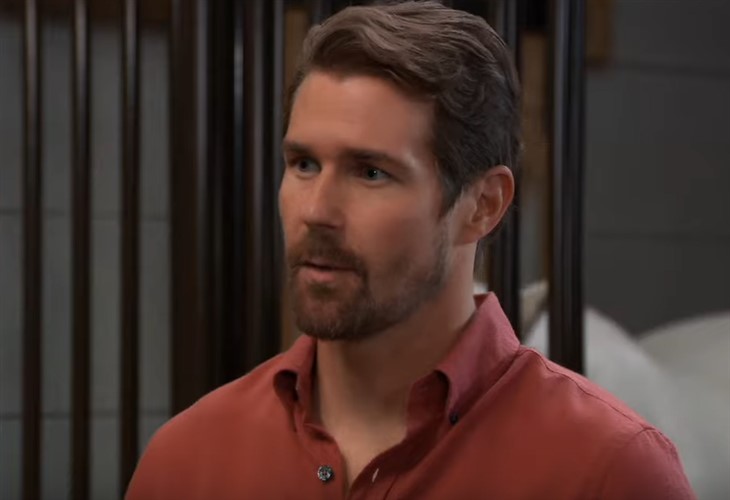 GH Spoilers – Mac Scorpio And Cody Bell Have Begun To Bond
Cody and Mac have begun to bond, finding they have several things in common, and Mac had opened up to him about feeling bad he killed his best friend's brother. Cody encouraged him to talk to Kevin Collins (Jon Lindstrom) about his feelings about his killing Ryan Chamberlain (Jon Lindstrom) which he'd done saving Ava Jerome's (Maura West) life.
According to GH spoilers and updates, Mac leaves, needing to get back to the PCPD and says he had a good time, and Cody feels foolish and guilty, and then he gets another visitor not long after. Dante, his oldest friend shows up and he can tell something is really bothering Cody, even though he brushes it off as nothing.
General Hospital Spoilers – Dante Falconeri Encourages Cody Bell
Cody finally admits what happened and tells him that the paternity test said Mac is his father and he lied about it out of greed, wanting that necklace. It's hard for Cody to tell Dante the truth as it is hard for Cody to admit certain things about himself, and it's very emotional for him. Dante is shocked at first but then urges Cody to tell Mac the truth, or he'll never be able to have a real relationship with him.
Cody defends his dishonesty and reminds Dante they have a secret from childhood they're not being honest about-why is this different? Cody's real nervous now that Dante will tell Mac what he knows about the two of them.
Be sure to catch up on everything happening with GH right now. Come back here often for General Hospital spoilers, news, and updates.