General Hospital Spoilers: Curtis Betrays Trina, Nina Betrays Sonny, Cam Betrays Everyone
General Hospital spoilers tease this summer in Port Charles will be a tumultuous one, as deceit and betrayal take center stage. Few will walk away unscathed, but fans will enjoy just how hot the summer season gets with new love affairs on the horizon — some of which will be kept secret until just the right time to reveal them.
Will Curtis Ashord (Donnell Turner) and Jordan Ashford (Tanisha Harper) find their way back to one another while Portia Robinson (Brook Kerr) is still hoping to reconcile with her estranged husband? Is Josslyn 'Joss' Jacks (Een McCoy) going to find out Dex Heller (Evan Hofer) prefers the mob over her, and Cameron 'Cam' Webber (William Lipton) prefers Esme Prince (Avery Kristen Pohl)?
General Hospital Spoilers — Curtis Ashford Trumps Portia Robinson's Paternity Lies
Betrayal can cut deep, and the discovery of a long-hidden secret can leave heartache in its wake. Such is the case for Curtis, who has recently learned the woman he married knew all along that he may have had a child, and she failed to disclose it.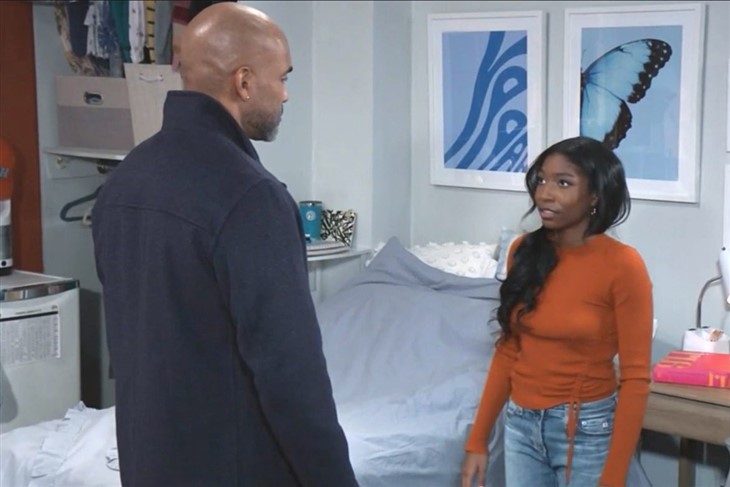 Portia was prepared to take that secret to her grave, and Curtis now seems fit to let her pick out that cemetery plot for one. Now, Curtis' loyalty remains in question.
He was already withholding information about his relationship with Selina Wu (Lydia Look) from Portia; now he may have allowed the mobstress to dip her hands into his paternity problems, ensuring Trina Robinson (Tabyana Ali) is said to be his daughter, no matter the cost.
Would Curtis really tell such a lie? If so, will we find out before Labor Day, or if this is going to be a slow burn that comes out years later? Either way, we're here for it.
GH Spoilers – Say Nina Reeves's Secrets Come Unraveled — Along With Nina Rreeves
Nina Reeves (Cynthia Watros) is facing an incredibly tough decision. On one hand, she has everything she's ever wanted — Sonny Corinthos (Maurice Benard) wants to marry her, and Willow Corinthos (Katelyn MacMullen) is slowly but surely opening the door to some kind of relationship between them.
But on the other hand, Nina's conscience weighs heavily on her as she tries to reconcile her feelings with the knowledge that she is the person who turned Carly Spencer (Laura Wright) and Drew Cain (Cameron Mathison) into the SEC.
She knows that if Sonny ever finds out the truth, he'll be furious — and rightfully so. As the summer unfolds, the tension between them will likely only grow more intense, culminating in a climactic moment when Sonny finally realizes the truth about Nina's deception. You don't want to miss this.
General Hospital Spoilers — Cam Webber Has A Brand New Girlfriend
When Cam returns home from the Spring semester, he might strike his friends as a bit standoffish. He's not actually going to be ignoring them, of course; he's just busy…with his new girlfriend.
No one could blame Cam for keeping it close to his chest that he has fallen for Esme, the town pariah. How did dragging her along to his going away party turn into late-night phone calls from California throughout the semester and her cheering him on long-distance as he swept the soccer field?
That sounds like a question Joss will demand an answer to as she waffles over regrets and wonders if she made the right choice by dumping Cam for Dex. Stay tuned for more GH news and spoilers just ahead as the summer season promises to be hot, hot, hot!