General Hospital Spoilers: Dante's Assist to Cody And Sasha Leads Chase To Suspect His Partner Of Foul Play
General Hospital spoilers spill Dante Falconeri (Dominic Zamprogna) has unknowingly placed himself in a precarious position. The FBI is all too curious about just how close Dante may be getting to his father. Is the good cop moving over to the dark side and leaking info to his dear old dad? We know better, but we've also seen Dante take an interest in Sonny Corinthos' (Maurice Benard) and Anna Devane's (Finola Hughes) corrupt worlds as of late.
Is there more to this story than meets the eye? As the feds continue to probe Dante's private life, Harrison Chase (Josh Swickard) may find himself wondering if they're all that off base.
General Hospital Spoilers — The Feds Are Already Asking Questions
The feds have a watchful eye on the PCPD officer. They're hoping he'll lead them to evidence that helps them nab Sonny. At the very least, they think Dante must have been leaking information to his dear old dad, because no other reasonable explanation for how Sonny knew about the federal raid on his territory makes sense. The feds are in the dark on that, but Dante is just as blind to how much trouble he might be in if they realize he knows where Cody Bell (Josh Kelly) and Sasha Gimore Corbin (Sofia Mattsson) are and hasn't said a word.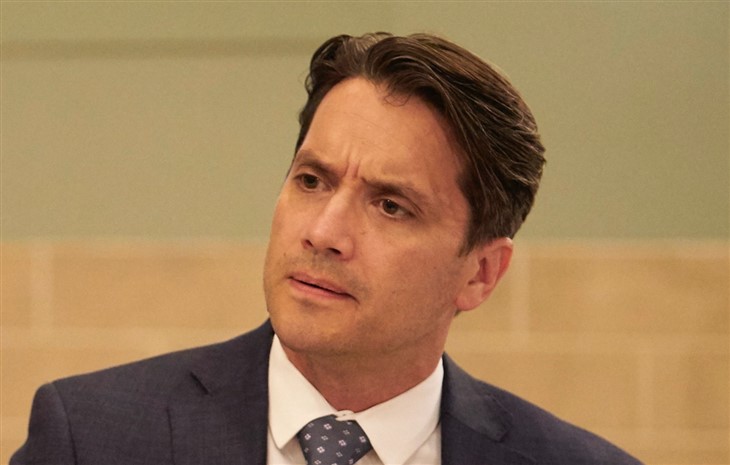 GH Spoilers – Claim Harrison Chase Keeps His Eyes Open
Right off the bat, Chase would never suspect Dante of slipping information to his dad. Sonny and Dante have had to contend with the elephant in the room that is the law ever since they met.
At that time, Dante was an undercover cop for the NYPD, and Sonny hired him as a henchman while Dante was collecting dirt on him. He only found out later after shooting Dante that he was his son.
Chase knows the history, and despite that, doesn't believe Dante would breach the letter of the law to save his pops. But that might change when he realizes he's breaking the rules for people he's not nearly as close to —- Cody and Sasha.
READ THIS: Find out what happens next on General Hospital.
General Hospital Spoilers — Mac Scorpio Turns The Other Cheek
Chase may also make note of how tuned out Mac Scorpio (John J. York) becomes when it starts to sound like Asante might be assisting Cody and Sasha in some way.
Mac wouldn't hesitate to bring Sonny in if he had the evidence to do it — but Cody? That's another story.
With Dante and Mac both seemingly willing to forsake their code of ethics to help out a grifting con artist, Chase just might think it's up to him to put the kibosh on his colleagues' careers.
At the very least, this could change the way Chase sees them. Stay tuned for more GH news and spoilers to see how this storyline shakes out.
For more about what's happening on your favorite soaps and more ways to connect with us, join the conversation on our Facebook Page, check out our Twitter feed, look for an update on our Instagram, follow us on Threads , Always stay up-to-date with us on Google News, or drop us an e-mail HERE! See you there!