General Hospital Spoilers: Deception Backfires, Troublesome Findings, Broken Hearts, Gruesome Discoveries
General Hospital spoilers and updates for the week of March 27 tease deception backfired, broken hearts and gruesome discoveries. Anna Devane (Finola Hughes) fears their deception backfired and Victor Cassadine's (Charles Shaughnessy) onto them, Marshall Ashford (Robert Gossett) has a broken heart and there's a gruesome discovery at Pier 55.
General Hospital Spoilers: Deception
At the safe house, Valentin Cassadine (James Patrick Stuart) tells Anna that Victor will be convinced the replica is real when he sees the false codes.
While Robert Scorpio (Tristan Rogers) still has the real Ice Princess necklace safely locked in his desk at the District Attorney's office, an exact replica with false codes has been delivered. The fake has false coordinates imprinted in the diamonds of the diamond and emerald necklace, although the stones no doubt are real.
Deputy Mayor Eileen Ashby (Heather Mazur) was sent to Victor with the fake, which she'd told him was in the Port Charles Police Department evidence lockup. She's there now showing Victor the necklace and he's inspecting it.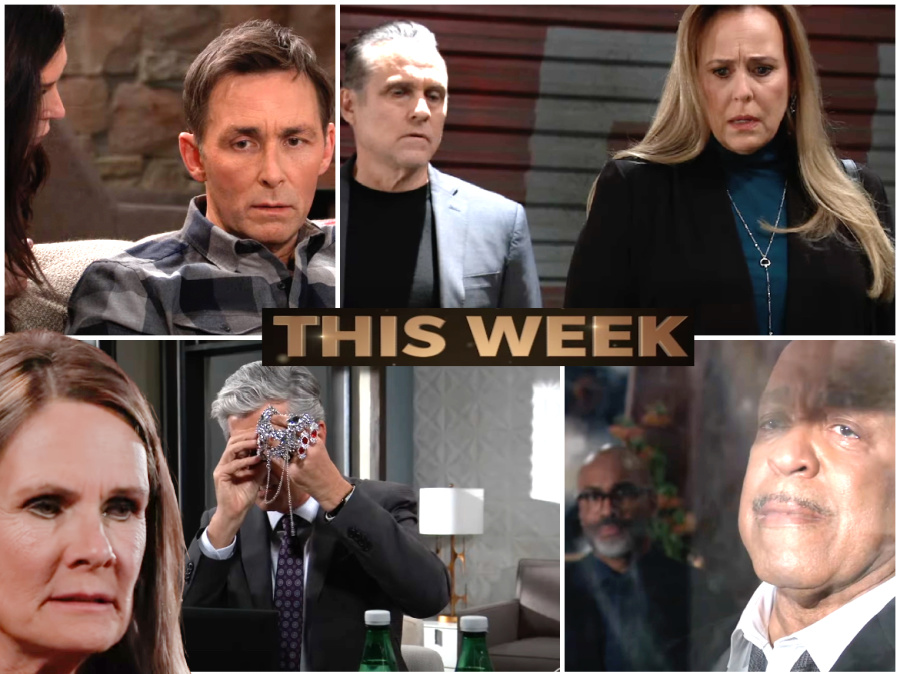 GH Spoilers: Troublesome Findings
As Valentin, Anna, and Lucy Coe (Lynn Herring) wait back at the safe house, Victor inspects the Ice Princess necklace replica in front of Eileen. Eileen smiles excitedly as she asks are we done here, because she wants to get away from him as fast as she can.
She'd refused to wear a wire, and Victor wouldn't let her go to her important meeting, and she can't call Robert, which was the trouble sign that she needs rescue. Victor, after inspecting the stones of the necklace tells her on the contrary, my dear, we're just getting started.
General Hospital Spoilers: Deception Backfired
Back at the safe house, Lucy's upset as she says this is bad – she, Valentin and Anna have been waiting for Eileen to check in and she hasn't. They all look worried as Anna says to them that Victor's onto them. No one has heard from the Deputy Mayor and no one has been able to reach her.
Later in the week, Drew Cain (Cameron Mathison) will have an update for Valentin and Anna, after their consensus that Operation Demeter must be connected to the necklace. Meanwhile, Valentin, Anna and Lucy will have to stay in hiding.
GH Spoilers: Nurses' Ball Excitement
At the Quartermaine mansion Brook Lynn Quartermaine (Amanda Setton) appears to be talking about the upcoming Nurses' Ball as she talks to someone. She says they won't want to miss a single minute, and she may be helping round up talent along with Maxie Jones (Kirsten Storms) and Bobbie Spencer (Jacklyn Zeman).
Lucy, of course will run the show from the background through Maxie as much as she can by blowing up Maxie's cell phone with demands. Perhaps Ned Quartermaine (Wally Kurth) as Eddie Maine will make an appearance, with a possibility of Harrison Chase (Josh Swickard) and Blaze (Jacqueline Grace Lopez) as well.
General Hospital Spoilers: Broken Hearts
Marshall is shown in tears as Curtis Ashford (Donnell Turner) watches him somberly from around a corner. Everyone will be in mourning on Wednesday, after Elizabeth Baldwin (Rebecca Herbst) gets a shock. Elizabeth has been worried about Epiphany Johnson (Sonya Eddy) who hadn't been returning her texts and calls.
It will be very bad news, with Port Charles in mourning, finding out Epiphany has passed. A special episode honoring Sonya Eddy and honoring the memory of Epiphany will air.
GH Spoilers: Gruesome Discoveries
Elsewhere, after the memorial, Dex Heller (Evan Hofer) makes a gruesome discovery, and Sonny Corinthos (Maurice Benard) and Laura Collins (Genie Francis) are at Pier 55. There's an excellent chance Dex has discovered Eileen's body after Victor had her eliminated.
He would call Sonny because of their previous ambush and he'd call Laura, who may be identifying her in this scene. It looks like Laura's looking down in the waters off the pier as Sonny stands behind her for support.
Be sure to catch up on everything happening with GH right now. Come back here often for General Hospital spoilers, news, and updates.