General Hospital Spoilers: Drunk Ava Lashes Out – Kevin's In Danger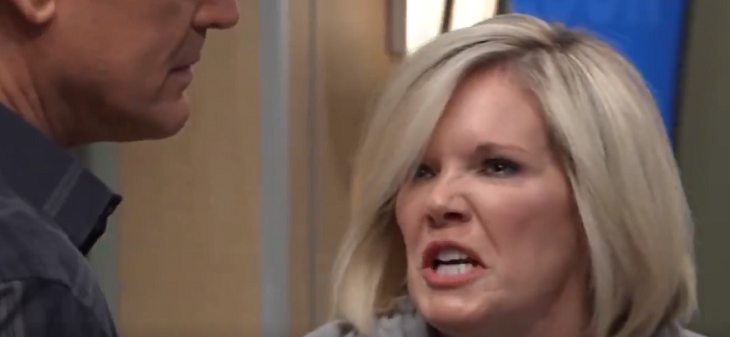 General Hospital spoilers tease that a drunk and disoriented Ava Jerome (Maura West) will make her way into General Hospital this week, looking to tear into Ryan Chamberlain (Jon Lindstrom) and then finds the real Kevin Collins instead! Ava may not fully have accepted at this point that the Kevin she was in love with and engaged to wasn't ever the real Kevin, and was his deranged twin Ryan at all.
She may still be in the stage of thinking it's Kevin, but having a nervous breakdown and in a psychotic stage, thinking he's Ryan, like he once did years ago but going past the stage of kidnapping and stalking, as he once did Felicia Scorpio (Kristina Wagner).
General Hospital Spoilers – Ava Gives Kevin A Verbal Beat Down
Most people in Port Charles thought exactly that, including Laura Collins (Genie Francis), except for the part about kidnapping and going full-blown psycho murderer!
Ava will tear into Kevin like only Ava can, but it seems like it'll just be a verbal beat down. It looks like Kevin possibly may help her realize that he really is Kevin, and that Ryan really was Ryan. Talking to the real Kevin, even if she is drunk, she may realize the differences in mannerisms and personality if he spends enough time with her. After all, Ava never did know the real Kevin very well, only as an acquaintance.
Kevin is very compassionate, sometimes to his own undoing, as was the case with Ryan, and he may be able to more gently lead her to the truth about who she'd been involved with all these months. She may have already realized that she'd been sleeping with a murderer.
General Hospital Spoilers – Ava Will Need To Get Her Through Emotional Time
But she's still not quite ready to accept emotionally that Ryan killed Kiki (Hayley Erin) although mentally, she'd probably realized it.
#GeneralHospital #GH Spoilers: #Julexis Reunited After All? Alexis' Dream Hints Julian Romance @celebratesoaps https://t.co/IeD2TMyY6l

— SOS/CTS/HH (@SoapOperaSpy) March 14, 2019
That would be a reason to get drunk and want to tear into pseudo-Kevin! Ava will need a lot of help getting through this time of her life without being destructive, although if Ryan does reappear she'll be the first one he'll need protection from.
Stay tuned to GH and keep checking General Hospital spoilers frequently for all the latest news, spoilers and updates on General Hospital!
Read more news, spoilers, and gossip on our Celebrating The Soaps General Hospital home