Days Of Our Lives Spoilers: Nurse Claims Kristen DiMera Tried To Kill Marlena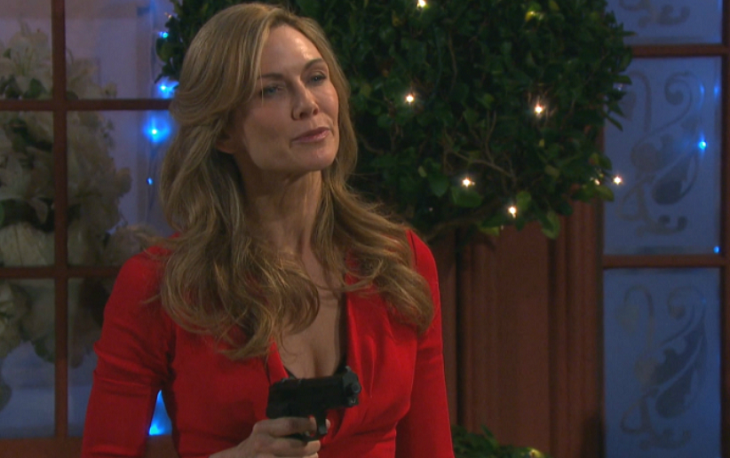 Days of Our Lives spoilers tease that John Black (Drake Hogestyn) will be thrown for a loop when a nurse, possibly Shelly Santos (Alyssa Mann) tells him that Kristen DiMera (Stacy Haiduk) was the one who brought the cookies poisoned with penicillin that nearly killed Dr. Marlena Evans (Deidre Hall)!
Shelly is probably in Diana Colville Cooper's (Judith Chapman) pocket so that's probably who delivers the seemingly ridiculous claims to John.
Kristen DiMera owned the warehouse in Nashville, Tennessee where she and Nicole Walker (Adrienne Zucker) were presumed to have died along with Xander Cook Kiriakis (Paul Telfer) in an explosion and fire. Although Xander showed up alive recently in Salem, and brought Jack Deveraux (Matthew Ashford) with him and delivered him to Eve Donovan (Kassie DePaiva).
Days Of Our Lives Spoilers – Does Anyone Stay Dead In Salem?
After all, anything's possible – does anyone ever stay dead in Salem? Both Marlena herself and the real Roman Brady (Josh Taylor) were once thought dead and are alive too.
This is probably just Diana's way of throwing suspicion off herself for Marlena's attempted murder by cookies! Apparently the frame she tried, putting a note supposedly from Haley Chen (Thia Megia) didn't work, so she had to come up with something.
Diana may not even know that Kristen is presumed dead, although she certainly kept up with the lives of John and Marlena through the internet. She probably knew of Kristen, she was probably in the Salem Spectator quite a bit so that's where she may have known of her from.
Days Of Our Lives Spoilers – Much Strangers Things Have Happened
But she probably didn't go any further than see that John rescued Kristen from a mugger at one time, and that John was once involved with her.
Days of Our Lives News: Brandon Barash Officially Replaces Tyler Christopher As Stefan DiMera – First Air Date Revealed https://t.co/zt3lwdunpQ pic.twitter.com/UnimFa8vlV

— SOS/CTS/HH (@SoapOperaSpy) March 14, 2019
Days of Our Lives spoilers tease that stranger things may happen as Marlena eventually recovers; keep checking Days of Our Lives spoilers frequently to see all the latest updates!
Read more Celebrating the Soaps news, spoilers, and gossip on our Days Of Our Lives homepage