General Hospital Spoilers: Esme Get Her Memory Back, Sinks Back Into Villainess Mode
General Hospital (GH) spoilers imply that Esme Prince (Avery Pohl) is seemingly on a road to redemption. With that said, the young mom has done a 180 since her amnesia condition, but can a leopard change its prints that easily? At some point, Esme will remember who she is, what she's done in the past; who her friends are, and who her enemies were. When that happens, will she be horrified by her behavior or sink back into villainess mode?
GH Spoilers: General Hospital Spoilers – Esme Prince Will Soon Remember All, But Will She Tell Anyone?
GH spoilers for the week of March 6th indicate that Esme will suddenly see things differently. Could this teaser hint at the idea that she gets her memories back? Considering she may get a far less penalty for past crimes if she still has amnesia, there's a good chance that even if she does remember all, she may decide to keep it hidden. After all, she's desperate to be with Baby Ace.
Plus, Spencer Cassadine (Nicholas Chavez) made it clear to her recently that he and Laura Collins (Genie Francis) would be watching over the little one as she can't care for a little one while in prison. Esme will do all she can to ensure that she not only protects Ace but remains an integral part of his life. If that means scheming a little to stay out of prison or be placed in a minimum security facility like Spring Ridge, she'll do so.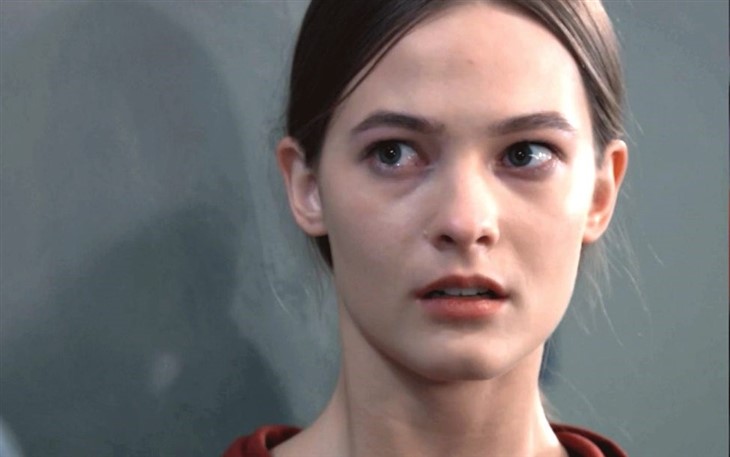 GH Spoilers – Esme Tries Prince To Strike Up A Deal Of Her Own
Elizabeth Webber (Rebecca Herbst) recently struck a deal with the PCPD, confessing her role in Esme's hostage situation. While Nikolas Cassadine (Adam Huss) was the mastermind behind it all, Liz did help him hide this crime. Considering all that Esme's gone through recently, and her kidnapping coming to light, will she go to prison? Will she be separated from Ace? Will she not be given some sort of reprieve for all she's been through?
GH spoilers for the week of March 6th also suggest that Esme will present an offer for Laura. Ms. Prince was mighty charming during her pre-amnesia days. If she does remember all, she may come up with a plan to manipulate the mayor. Laura must have some sort of pull, so, could Ace's grandmother help Esme and allow her to stay at her home on house arrest instead of the slammer? It would be a win-win situation. Collins can watch over Esme, and spend time with her grandson, yet also allow the little one to be with his mom. The situation may even appease Spencer. At the end of the day, if Esme gets her memories back, she's likely to continue to fake having amnesia, simply to manipulate the situation.
Will Esme's memories come back anytime soon? If so, will she change her ways or go back to being the villainess she once was? Share your thoughts, below! Plus, make sure to watch your favorite ABC daytime drama daily, so you don't miss an ounce of the drama. Don't forget to visit this site daily for the latest General Hospital news, updates, and spoilers!