General Hospital Spoilers: Franco Nervous – Afraid Liz Could Be Victim Of Serial Killer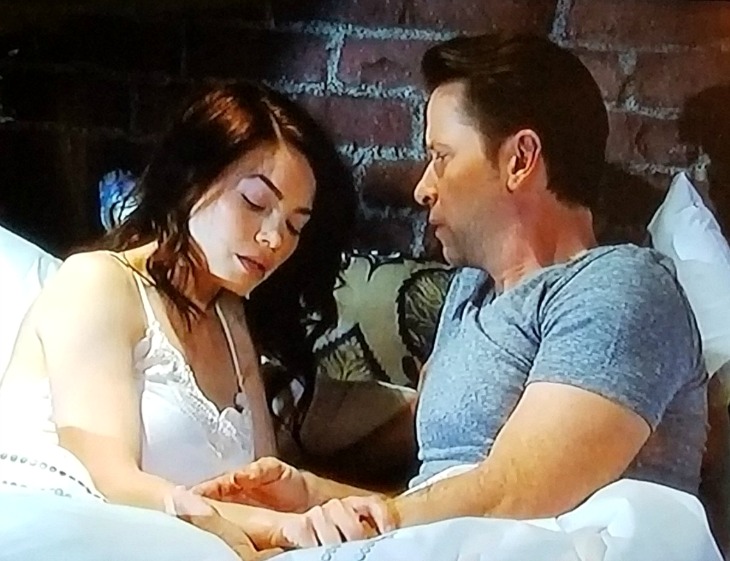 General Hospital spoilers tease that Franco Baldwin (Roger Howarth) is getting nervous about all the killings in Port Charles recently. Even though the killing of a male seems to be a difference in the pattern, Franco knows from his dark side experience that this is one nasty individual and he is not going to just quit killing because he enjoys doing it!
Elizabeth Webber (Rebecca Herbst) took Detective Harrison Chase's (Josh Swickard) self-defense class, along with many other Port Charles women, but even that probably doesn't make Franco feel any better about the situation.
He knows any killer that can do his kills without being noticed and who is able to move and pose the bodies without being detected will probably not be dissuaded of his killing goal with a few punches, jabs and kicks, not even in the "family jewels" as Nina Reeves (Michelle Stafford) so eloquently put it!
Franco tells Liz that they are strong enough to get through this together. #Friz #FrizRewatch #GH pic.twitter.com/KWJhNUF0fM

— Melissa Steed (@1m2e3l) December 28, 2018
Franco also knows that this killer is someone who can hide in plain sight; someone no one would ever suspect of these crimes. So he's going to be nervous about his lady love Liz until the killer is caught! After all, he's still in shock over his "daughter" Kiki Jerome's (Hayley Erin) murder!
The police consulted with him one time only; he's been willing to help more, even to the point of going to his dark side, and that was even before Kiki was killed! He's obviously frustrated that he was not able to prevent Kiki's murder, so how can he keep Liz safe?
This killer could be anywhere; even in General Hospital, and Franco may take to following Liz around everywhere for her own protection! This may make her nervous, or she may feel like he's checking up on her, but he'll feel he's gotta do what he's gotta do! If he explains to her what he's doing she will understand!
Franco may indeed start watching out for any women he cares about or has cared about since the police haven't been able to stop or catch the killer so far! Keep watching GH and checking General Hospital spoilers frequently to see if Franco will be able to keep the women around him safe!