Soap Opera Ratings for Week of July 23-27: GH Only Daytime Drama to Slide This Week!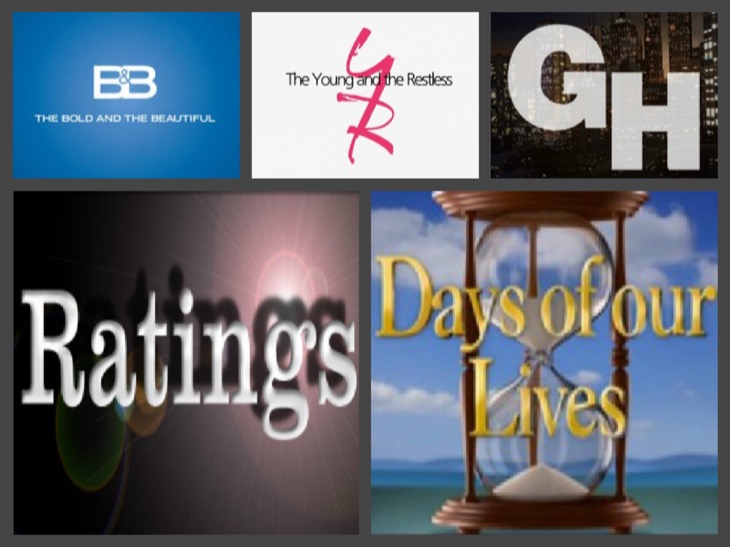 The soap opera ratings have been reported by Soap Opera Network. There were no major interruptions or special programs that would have interfered with this week's ratings. Let's see how all four daytime dramas made out this week!
THE YOUNG AND THE RESTLESS
CBS' Y&R remains at the top of the list for total viewership with gains of 166,000 viewers, totaling at 4,288,000. The CBS soap opera dipped slightly, losing 5,000 viewers among women ages 18-49. This was a tough week everyone, as Devon (Bryton James) and Hilary (Mishael Morgan) spend their last week together after her brutal car accident, their baby dies and ultimately after their quick hospital wedding – Hilary dies! Nick (Joshua Morrow) and Phyllis (Gina Tognoni) have sex (again), while Kyle (Michael Mealor) continues to undermine Billy (Jason Thompson). Mariah (Camryn Grimes) chooses her family over Tessa (Cait Fairbanks). Will there ever be peace among these feuding families?
THE BOLD AND THE BEAUTIFUL
CBS' B&B also did incredibly well in ratings this week, gaining 80,000 in total viewers and still in second place with 3,461,000 in total viewership, it appears that CBS continues to dominate the soap opera world! As its sister soap, B&B only lost 5,000 viewers among women 18-49. Newcomer Zoe (Kiara Barnes) steals the show literally as Steffy (Jacqueline MacInnes Wood) catches Liam (Scott Clifton) and Hope (Annika Noelle) in a compromising position. Bitter Steffy strikes a deal with Bill (Don Diamont) causing her dad, Ridge (Thorsten Kaye) to confront him. Brooke (Katherine Kelly Lang) continues to push Hope towards Liam, and the battle among the step-sisters seems endless.
DAYS OF OUR LIVES
NBC's DOOL gained 23,000 total viewers from the previous week. They now have 2,149,000 in total viewership. 'Days' was the only daytime drama to gain among women viewers this week, with an impressive +10,000 women, ages 18-49 watching the sudser! Abigail (Marci Miller) chooses to keep the baby, causing Chad (Billy Flynn) and Stefan (Tyler Christopher) to physically fight. An angry Gabi (Camila Banus) vents to JJ (Casey Moss) about her own predicament. Claire (Olivia Rose Keegan) continues to manipulate Tripp (Lucas Adams), as Ciara (Victoria Konefal) truly cares about Ben (Robert Scott Wilson). Secrets and warnings are all around Salem these days, as couples celebrate their love, while others are desperate to hold onto their significant others.
GENERAL HOSPITAL
ABC's GH slid really far this week as the soap opera lost 61,000 viewers, ending with 2,386,000 in total viewership. There was also a big drop with women viewers (18-49 years old), losing 25,000 from the previous week. What could have happened to cause such a drop? Peter (Wes Ramsey) is rescued. Joss (Eden McCoy) is out of control and Oscar (Garren Stitt) politely turns her down. The women of Port Charles unite for Kiki (Hayley Erin) to show she isn't alone in her harassment suit. Nelle (Chloe Lanier) turns to Chase (Josh Swickard) for help with Michael (Chad Duell). Carly (Laura Wright) is put in a precarious situation in Ferncliff, which many viewers hated as Michael places himself in harm's way to get the goods on sinister Nelle. GH fans have waited for Nelle to face the consequences of her actions, will there ever be true justice for what she's done?
How do you feel about all these stories that happened this week and how would you rate all of the daytime soap operas? Please let us know what you think!