General Hospital Spoilers: Frustrations, Fights, Frank Talks
General Hospital spoilers and updates for the week of Monday, May 22-Friday, May 26 tease frustrations, fights, and frank talks. Nina Reeves (Cynthia Watros) is frustrated, Spencer Cassadine (Nicholas Alexander Chavez) starts a fight, and Kristina Davis-Corinthos (Kate Mansi) and Sam McCall (Kelly Monaco) have a frank talk.
General Hospital Spoilers – Frustrations, Meetings, Confrontations
Monday, Nina vents her frustration over inabilities to make peace with Carly Spencer (Laura Wright); Sonny Corinthos (Maurice Benard) tells Nina peace only comes one way.
At The Savoy, Gladys Corbin (Bonnie Burroughs) meets with Selina Wu (Lydia Look) and thinks she's got something worth more than money to give her after spying at Pozzulo's.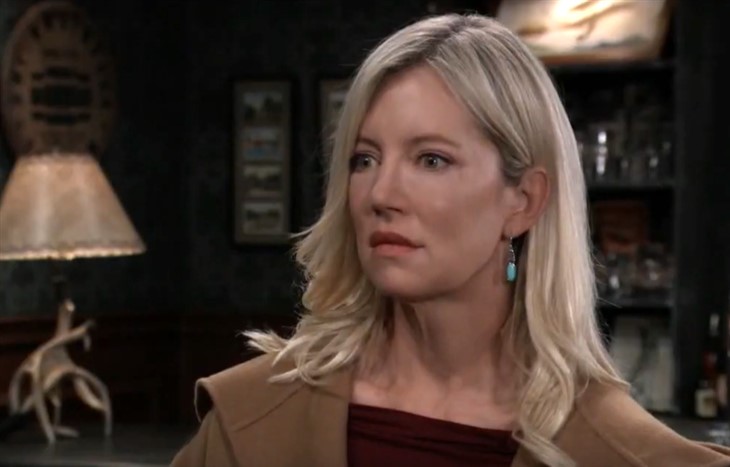 At The Metro Court, a conniving Tracy Quartermaine (Jane Elliot) has dinner and ulterior motive spiked conversation with Harrison Chase (Josh Swickard).
At GH, as Michael Corinthos (Chad Duell) hangs out as Willow Corinthos (Katelyn MacMullen) is in isolation, and Josslyn Jacks (Eden McCoy) confronts him over Dex Heller (Evan Hofer).
Elsewhere, at The Metro Court, Gregory Chase (Gregory Harrison) matches wits with his son Dr. Hamilton Finn (Michael Easton).
GH Spoilers – Fights, Romantic Gestures, Unexpected Encounters
On Tuesday, Spencer starts a fight with someone and it might be Esmé Prince (Avery Kristen Pohl) as Josslyn updates Trina Robinson (Tabyana Ali) on the latest.
Meanwhile, Sonny is insistent while elsewhere, Chase makes a romantic gesture, goaded by Tracy into making up with Brook Lynn Quartermaine (Amanda Setton).
Elsewhere, Carly has an unexpected encounter with Olivia Quartermaine (Lisa LoCicero). Meanwhile, Ned Quartermaine (Wally Kurth) is grateful-perhaps someone believes him that he isn't the SEC whistleblower?
General Hospital Spoilers – Congratulations, Catching Up, Clearing The Air
Wednesday finds Ava Jerome (Maura West) offering congratulations while elsewhere, Curtis Ashford (Donnell Turner) and Drew Cain (Cameron Mathison) catch up.
Portia Robinson (Brook Kerr) and Jordan Ashford (Tanisha Harper) clear the air, likely over Curtis, who can't seem to make his mind up who he wants to be with.
Elsewhere, TJ Ashford (Tajh Bellow) who with his domestic partner Molly Lansing-Davis (Holiday Mia Kriegel) received very bad news about her fertility, presses Molly.
TJ and Molly may soon find themselves debating the possibility of finding a surrogate and her carrying an embryo with TJ supplying the sperm and someone else the egg.
Elsewhere, as the SEC case against Carly and Drew ramps up, Diane Miller (Carolyn Hennesy) gives Carly a warning.
GH Spoilers – Frank Talks, Determination, Surprises
Thursday, Kristina and Sam have a frank talk, possibly about TJ and Molly's predicament. Meanwhile, Nina is still determined to overcome obstacles and be in Willow's life.
Elsewhere, TJ talks to Stella Henry (Vernee Watson) about things, his and Molly's predicament likely to be the topic of conversation. Meanwhile, Curtis has a surprise for Portia and Sonny has important news.
General Hospital Spoilers – Clashes, Suspicions, Pleas
Friday ends the week with Diane and Nina clashing, while Drew is suspicious. Ned continues to plead with Olivia, so maybe he's still suspect number one for the SEC whistleblower after all!
Meanwhile, something must be afoot that activates Anna Devane's (Finola Hughes) spy-dey senses, as she seeks out her ex-husband and WSB partner Robert Scorpio (Tristan Rogers).
Willow's loved ones rally around her, so either she's taken a turn for the worse or it's time for her bone marrow transplant.
Drew rescued Liesl Obrecht (Kathleen Gati) and got her back to Port Charles barely in time if Willow was going to be saved. Willow's leukemia had progressed to the point her lymph nodes were encroaching on her organs and her body wasn't producing cells so her survival could still be iffy.
Be sure to catch up on everything happening with GH right now. Come back here often for General Hospital spoilers, news, and updates.