General Hospital Spoilers: Jason Morgan Takes The Stand At Carly's Court Case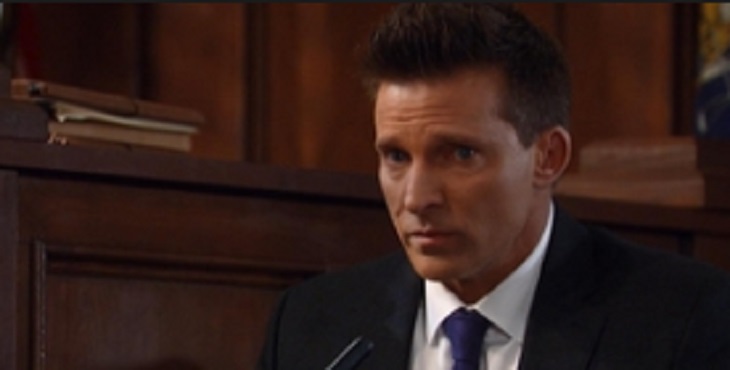 General Hospital spoilers tease that Jason Morgan [Steve Burton] is about to take the stand for his friend Carly [Laura Wright]. But unfortunately, he might end up hurting her more than helping her case against Nelle [Chloe Lanier].
Carly Corinthos is facing 10 years of her life behind bars if she's convicted of supposedly pushing a pregnant Nelle down the stairs at her baby shower.
Of course, Carly didn't push Nelle. She hates the woman with a passion, but she would never do anything to harm her unborn grandchild. Yet, the only people who know that are the ones who are closest to Nelle. The only way Carly can get out of this one is if she convinces everyone that she's insane. It might or might not work out to her advantage.
LOVE GH?  SUBSCRIBE TO OUR GENERAL HOSPITAL NEWSLETTER, HERE!
When the DA Margaux (played by newcomer Elizabeth Hendrickson) asks Jason if he can confirm that his best friend Carly is indeed insane, Jason answered with a simple "I can't answer that."
When Margaux pressed by saying, "You can't Mr. Morgan, or you won't," Jason had nothing to say but instead glanced in Carly's direction. Obviously, he doesn't want to say that his best friend Carly is insane. But then again, he knows that she is relying on him to keep out of jail.
Jason has been in plenty of tough situations in the past, but he's never been in anything more difficult than this. He knows that either way, Carly is going to face some severe implications. This is one situation that they simply can't get out of.
General Hospital airs weekdays on the ABC network. Check your local listings for times. In the meantime, let us know what you think by leaving us a line with your thoughts in our comments section below.
As always, more detailed spoilers and a full collection of pictures for the week in question will appear here where there will be more clues and hints over exactly what's going on.
General Hospital airs weekdays on the ABC network.
---
Read more news, spoilers, and gossip on our General Hospital homepage
Want up-to-the-minute soaps news, spoilers, and gossip on your social feeds? Just hit 'Like' on our Facebook page.