General Hospital Spoilers: Josslyn Confronts Michael, Why Isn't He Putting Sonny Away?
General Hospital spoilers and updates tease Josslyn Jacks (Eden McCoy) will confront Michael Corinthos (Chad Duell) over his decision. She wants to know why he's pulling the rug out under Dex Heller (Evan Hofer) and endangering everyone by not putting Sonny Corinthos (Maurice Benard) away as planned!
General Hospital Spoilers – Willow Corinthos Wanted Peace
Josslyn was wondering why Sonny Corinthos (Maurice Benard) was at Michael and Willow's wedding, she figured it was just a ploy so Sonny wouldn't suspect he was being taken down. The takedown wasn't being postponed or cancelled then, not even when the SEC agents showed up to arrest Carly Spencer (Laura Wright). Dex was still getting the evidence later when Sonny went to the meeting, dodging Brick (Stephen A. Smith) as he set up the secret camera.
Dex had everything in place to turn into the Feds, he'd gotten the video to Michael, but then Michael did a one eighty and cancelled the takedown. Michael claimed this was all Willow's idea, who collapsed and had to be hospitalized after the wedding.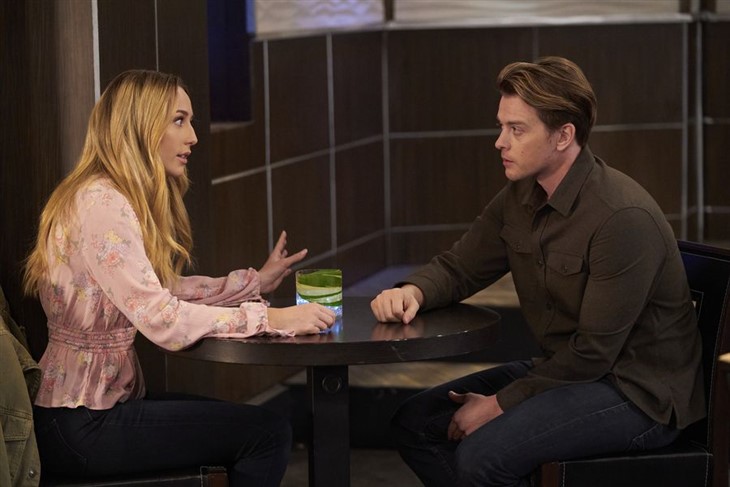 GH Spoilers – Whatever Happened To Protecting His Family?
Josslyn tears into her brother, citing whatever happened to protecting his family-doesn't he know that Donna Corinthos (Scarlett Spears) and Avery Jerome-Corinthos (Ava or Grace Scarola) remain in danger? Michael explains Willow's reasoning to him, and Josslyn regards it as a bunch of crap-not thinking the long game, saying no one is going to hate him. Of course now she denies Sonny ever having protected any of them when she was growing up, repressing memories of staying on his Puerto Rican island. If Sonny is not put in prison for the rest of their lives, Avery and Donna are likely to wind up like Morgan Corinthos (Bryan Craig) blaming mob violence. She conveniently forgets all the times Sonny, and for that matter, Jason Morgan (Steve Burton) came through for them working with Sonny.
General Hospital Spoilers – A Deathbed Request
Josslyn continues her tirade, telling Michael if he doesn't turn Sonny in she will and tell the Feds he was complicit! Michael tries to calm her down and get her to listen to reason – Willow's request for Michael to not turn Sonny in may have been a deathbed request. He says that because it could take a while to know if the bone marrow transplant worked-there's a chance that Willow's body may be too weak.
Michael won't give in to Josslyn's panicked request and he knows she's bluffing about turning him in as complicit-that could expose Dex as Michael's plant if investigated. It's plain to Michael and to everyone else "in the know" about Josslyn and Dex that Josslyn's "love" has turned to obsession!
Be sure to catch up on everything happening with GH right now. Come back here often for General Hospital spoilers, news, and updates.