The Bold And The Beautiful Spoilers: Taylor Sets Up Brooke So She Can Get Back With Ridge?
The Bold and the Beautiful spoilers show that Taylor Hayes (Krista Allen) may have something up her sleeve so she can get back with Ridge Forrester (Thorsten Kaye). Sure, she made a pact with her new bestfriend Brooke Logan (Katherine Kelly Lang), but thinks she sees an opening as Deacon Sharpe (Sean Kanan) and Brooke open up about their lives together.
While out to lunch, Taylor spoke to Deacon about the possibility, and while it may look like a friend trying to help out another friend, we think she has some ulterior motives for getting back with Ridge. Taylor had a look on her face that said she had more going on in her head, and it's either a sinister plan, or she was incredibly hurt.
The Bold And The Beautiful Spoilers – Did Taylor Hayes Want A Chance With Deacon?
While Taylor was talking to Deacon about getting a fresh start and moving on, I almost thought that she was talking about with her.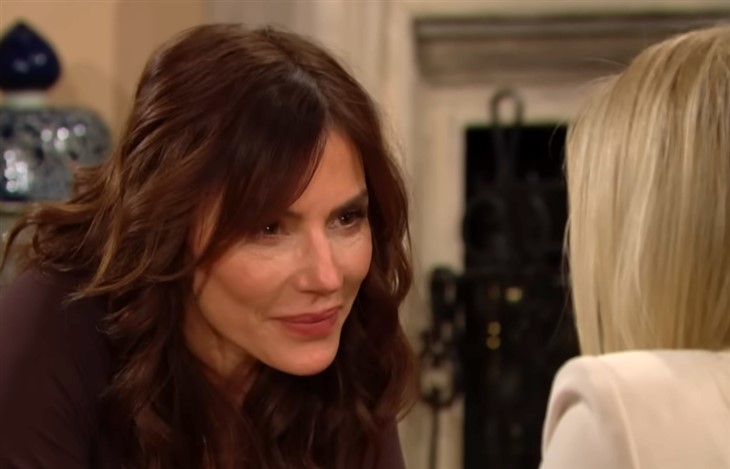 Was Taylor still convinced about her pact and legitimately thought that she and Deacon would be a good couple? It felt like when Deacon said "with Brooke", that Taylor was hurt by that.
However, if you assume that she was trying to lead him onto Brooke, then the plans are already set in motion. Either way, Taylor is up to something, it's just a matter of whether or not she is going to break her pact with Brooke or simply want a more wholesome relationship with Deacon.
B&B Spoilers – Brooke Logan's Reaction To Taylor Getting With Ridge
If Taylor is secretly planning on trying to get back with Ridge, it would come as quite a shock to Brooke, but then again, Brooke isn't innocent. She has had plenty of moments where it felt like she and Ridge were going to get back together.
We knew this pact was going to come to an end eventually, but it would be interesting and super fun to see the two women turn on each other or try to undermine the other. It would make for great drama and make an otherwise boring storyline finally have some life.
What do you think? Will Steffy help convince her mother that it's okay and to move on from Ridge and let Brooke be happy? Will Taylor ruin her pact with Brooke to get back with Ridge? Share your thoughts and remember to keep watching the CBS soap to see what happens next.
Be sure to catch up on everything happening with B&B right now. Come back here often for The Bold and the Beautiful spoilers, news, and updates.