General Hospital Spoilers: Lucy Dumps Martin!
General Hospital spoilers tease that Lucy Coe (Lynn Herring) thought she had finally met the man of her dreams when she met Martin Grey (Michael E Knight).
The two of them hit it off instantly and seemed perfect for one another. It seemed as though their relationship was doomed to end tragically when it appeared that Lucy was murdered late last year, but she turned up alive and well.
But now, Lucy may have to do the unthinkable and end things with Martin for good.
General Hospital Spoilers – Martin Grey Had The Idea For The Deceptor!
Once they reunited, things seemed to be going forward full steam ahead. Martin even gave Lucy the idea for the Deceptor a brand-new product for Deception.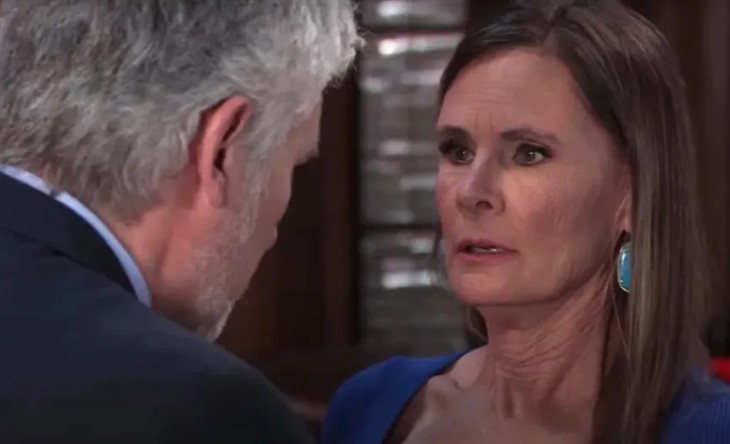 Even though Martin had the idea, he didn't want to be credited for the discovery. So, Lucy went forward with her plan to patent and market the new product. Unfortunately, the Deceptor may not have been Martin's idea at all.
Tracy Quartermaine (Jane Elliot) has claimed that the Deceptor was originally designed by someone else.
She even forced Brook Lynn Quartermaine (Amanda Setton) to infiltrate Deception to get as much information about the new product as possible.
GH Spoilers – Martin Grey Doesn't Want To Get Married Again!
In addition to the problem with the Deceptor is the fact that Martin is adamant that he doesn't want to get married again.
He has three ex-wives and he is paying a large amount of alimony to two of them. Apparently the third wife, his most recent, is paying HIM however.
Whoever she is, she is from Pine Valley. This third wife is most likely connected to the Deceptor, but that has yet to be revealed.
General Hospital Spoilers – Lucy Coe Will Dump Martin Grey!
According to GH spoilers, Lucy's company, Deception is about to be sued over the Deceptor. If it is proven that the product originated elsewhere and that Martin isn't truly the idea behind it, Lucy could stand to lose millions as well as the company she worked hard to bring back.
At that point, Lucy won't want anything more to do with the man who once seemed to be so perfect for her.
In fact, it will likely be the end of their relationship once and for all. It would be such a shame since the two of them seem so perfect for one another.
GH Spoilers – What Do You Think?
Did Martin create the Deceptor? If not, who did? And what does any of this have to do with his ex-wife in Pine Valley?
Anything can happen in Port Charles so stay tuned to General Hospital airing weekdays on ABC. And don't forget to check back right here regularly for all your General Hospital news, information and spoilers!