General Hospital Spoilers: Michael Keeps Nina's SEC Secret For "Willow's Sake", But Blackmail Is Involved
General Hospital (GH) spoilers indicate that fans should expect the unexpected. Michael Corinthos (Chad Duell) recently revealed to his mom Carly Corinthos (Laura Wright) that he may be able to find out who tipped the feds off about her insider trading activities with Drew Cain (Cameron Mathison).
Looks like the proverbial poop is about to hit the fan, but how will Michael handle things once he finds out Nina Reeves (Cynthia Watros) reached out to SEC?
General Hospital Spoilers – Michael Learns The Truth & Keeps It To Himself
GH spoilers for the week of October 9th imply that Michael will be shaken up by something.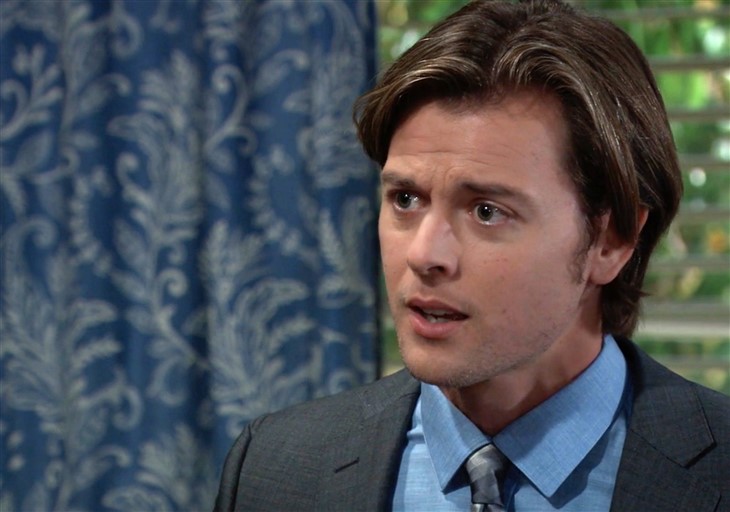 There's a good chance his source will tell him that Nina was the one behind tipping SEC, which will leave Mr. Corinthos confused, and upset, but also feeling guilty.
After all, his Uncle Ned Quartermaine (Wally Kurth) was placed through a wringer of accusations when he adamantly claimed his innocence.
Still, Nina being the one to run to the feds complicates things tremendously. After all, everything has finally settled down between her, him, Willow Corinthos (Katelyn MacMullen), and Sonny Corinthos (Maurice Benard).
While there may be some tension between Nina and Carly, it's very minimal at this point. Michael may feel conflicted about how to proceed.
GH Spoilers – Time To Blackmail Nina Reeves …
GH spoilers for the week of October 9th also hint that Michael will play dirty. Despite Willow forgiving Nina, Michael's always been on the fence about Reeves. He's civil, but he doesn't like the woman and hates the fact that she's around his children and Willow these days.
READ THIS: Find out what happens next on General Hospital.
As such, he'll likely use the information he has on her. Blowing up the SEC secret will cause a ton of drama and headache Michael doesn't need right now, so blackmailing Nina into doing what he wants might be the way.
While he'd love for her to stay away from his family, he knows all too well this would hurt Willow and the kids; therefore, he'll likely blackmail Reeves into breaking up with Sonny. If he can't cut her out of Willow's life, he'll try and cut her out of his dad's.
Will Michael blackmail Nina over her SEC secret? Share your thoughts in the comment section!
Tune into your favorite ABC soap daily to see all the drama unfold and visit this site often for the latest General Hospital updates, news, and spoilers.
For more about what's happening on your favorite soaps and more ways to connect with us, join the conversation on our Facebook Page, check out our Twitter feed, look for an update on our Instagram, follow us on Threads , Always stay up-to-date with us on Google News, or drop us an e-mail HERE! See you there!