General Hospital Spoilers: Michael Opens Up To Brook Lynn — Is it Too Late To Salvage His Relationship With His Dad?
General Hospital spoilers reveal Michael Corinthos (Chad Duell) is about to open up to Brook Lynn Quartermaine (Amanda Setton) in a pretty big way. Recently, Brook Lynn sat down with Michael's father, Sonny Corinthos (Maurice Benard), who wanted her help bridging the gap between himself and his son.
Of course, Michael walked in and blew the whole thing to bits. It seems like the lad doesn't know what he really wants, and he's running out of time to figure it out before he blows up the next big thing — his father's life. Will Brook Lynn be able to set him straight in time for him to call it all off? Will Dex Heller (Evan Hofer) even listen if he does?
General Hospital Spoilers — Michael Corinthos Is Always Mad At Sonny Corinthos
For the last couple of months, Sonny has been a rock for Michael and his family. His son didn't see that coming. He's been doing his best to stay in line with his plan to take Sonny down and get him thrown behind bars for the rest of his life, but it's becoming hard to ignore the nagging feeling inside himself that says that isn't what he really wants. When Michael sits down to chat with Brook Lynn, he's hoping to air his feelings and get feedback he can trust — from someone else he knows loves his father dearly.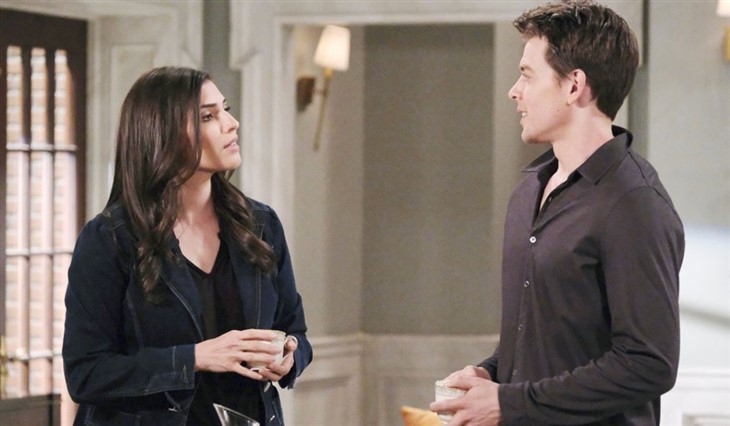 GH Spoilers – Hint He's In Too Deep
Brook Lynn isn't blind to Sonny's faults, but she's also sometimes blinded by his charms. So Michael will take her advice with a grain of salt. Still, it will mean a lot when Brook Lynn reminds Michael that he only gets one father, and that he's already lost the potential for another with A.J. Quartermaine (Sean Kanan). This is it; like it or not. Brook Lynn isn't going to understand when Michael tells her he's in too deep to turn back in his father's favor now, but she might do well to remind him that he can change the way things are with Sonny at any time by humbling himself. That's no small feat for Mikey.
General Hospital Spoilers — Shut It Down
The idea of humbling himself enough to go to his father and reverse course, claiming he does now want a relationship with him, is unnerving for Michael. His ego has been so propped up by this vendetta against his dad, and now he's considering throwing all of that hard work and time spent being angry in the trash. Michael doesn't want to deal with the fallout of his father going to prison, nor that blood being on his hands. But does that mean he wants his dad back in his life? He's not sure, and with time ticking, the pressure to decide is brutal. Ultimately, Michael may decide to shut the whole operation down, but that doesn't mean Dex will follow orders. Stay tuned for more GH news and spoilers to see how this pans out.