General Hospital Spoilers: Sonny's Tough Decision, Nina's Heartbreak-Can She Be Strong Enough For Willow On Her Own?
General Hospital spoilers and updates tease that Sonny Corinthos (Maurice Benard) has to make a tough decision that will cause Nina Reeves (Cynthia Watros) heartache. In the midst of her worries over if her daughter will live long enough for her bone marrow transplant, Sonny tells her they must distance themselves from each other.
General Hospital Spoilers – Sonny Corinthos' Tough Decision
When Sonny has a target on his back, so does everyone he's close to, and because of the recent ambush at the warehouse, Sonny tells Nina she'll be safer away. It's not a total breakup, just having to spend time apart and communicating by phone calls and email, but Nina doesn't like it-she's become accustomed to leaning on him. This couldn't come at a worse time, with daughter Willow Tait (Katelyn MacMullen) growing weaker by the moment and aunt, Liesl Obrecht (Kathleen Gati) having to postpone bone marrow donation.
Liesl has been on anti-coagulants so it's understandable it wouldn't be safe to donate at this time for either her as the donor, or Willow, as the receiver. But it's a very nerve-wracking time for Nina, not knowing if Willow will make it until the transplant and not being able to lean on Sonny as usual.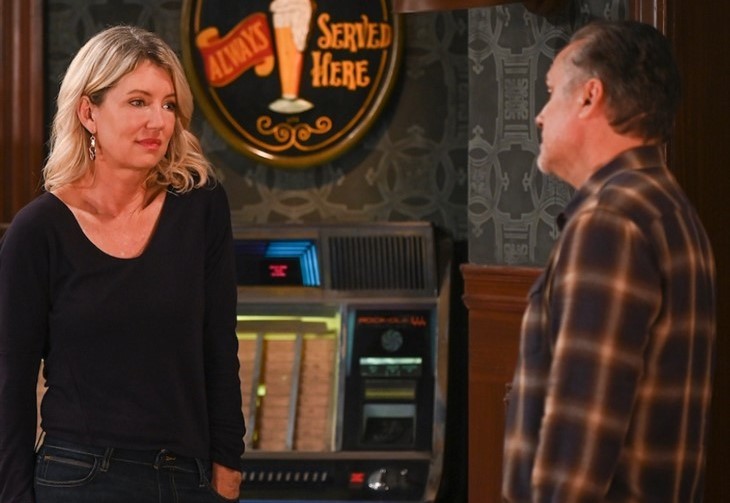 GH Spoilers – Tough Time For Sonny Corinthos As Well
This is a tough time for Sonny as well, as he must put distance between his children and anyone who the presumed new enemy may associate with him. They are all potential targets, and so far, the enemy has not been identified, the only clue a Highsider's Bar matchbook found on the deceased sniper. Sonny was definitely the target, and it was a shoot to kill situation; if Dex Heller (Evan Hofer) hadn't pushed Sonny to the ground he'd have been killed. Sonny explains he doesn't want to have to distance himself from Nina, it's not a want, it's a potentially lifesaving obligation.
General Hospital Spoilers – Nina Reeves Understands And Agrees
Nina understands and finally agrees this distance is for the best considering what is going on, but she's not happy about it. She considers the rest of her family and loved ones, Maxie Jones (Kirsten Storms) and her children, and Nina's grandchildren; and how Sonny being in the mob could affect them. It's not like Nina's family haven't been in danger before-remembering Peter August (Wes Ramsey) and the lengths they went to then to protect baby Bailey Louise Jones (London and Jett Prinzo-Berendt).
Nonetheless, Nina is going to be panicked and worried until Willow gets that bone marrow transplant and she and Liesl are okay. They and Wiley Corinthos (Viron Weaver) and Amelia Corinthos (Owen and Nathan Ford) are the only blood family she has left.
Be sure to catch up on everything happening with GH right now. Come back here often for General Hospital spoilers, news, and updates.