General Hospital Spoilers Monday, March 27: Spencer Shocked, Cam Confronts Esme, Joss Impatient, Maxie Scores
General Hospital spoilers Monday, March 27, 2023, reveals Trina Robinson (Tabyana Ali) seeks to be an intermediary. Laura Collins (Genie Francis) and Elizabeth Baldwin (Rebecca Herbst) clear the air. Dex Heller (Evan Hofer) circles back to Josslyn 'Joss' Jacks (Eden McCoy). Spencer Cassadine (Nicholas Chavez) is in utter disbelief.
Marshall Ashford (Robert Gossett) makes it known just how much he appreciates someone else. Maxie Jones (Kristen Storms) secures another act for the Nurses' Ball. Valentin Cassadine (James Patrick Stuart) puts Anna Devane (Finola Hughes) on the spot. Victor Cassadine (Charles Shaughnessy) will be pleased with Eileen Ashby (Heather Mazur). Cameron 'Cam' Webber (William Lipton) confronts Esme Prince (Avery Kristen Pohl).
General Hospital Spoilers – Monday, March 27, 2023: Trina Robinson Is In The Middle
Trina doesn't want to be stuck in the middle of her family, nor Spencer's scheme to get custody of his little brother, but she knows this is no perfect world they're living in. Still, she's going to use Spencer's drama to continue to avoid her own. When she gets caught in the crossfire of someone else's debate, the anger she's been stuffing deep down just might erupt.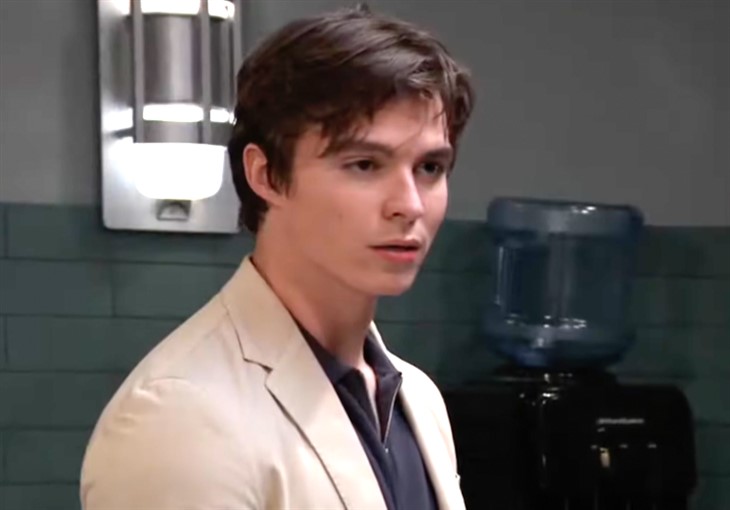 GH Spoilers – Say Laura Collins And Elizabeth Baldwin Open Up To Each Other
When Laura and Elizabeth come face to face, they might have some details to sort out about how Elizabeth got involved in Nikolas Cassadine's (Adam Huss) scheme to hold Esme hostage. Furthermore, if Ava Jerome Cassadine (Maura West) comes up in conversation, Elizabeth might put her suspicious behavior on Laura's radar. Why has Ava been so quiet?
GH Spoilers — Dex Heller Checks In With Joss Jacks
Joss will be happy to hear from her beau, but that doesn't mean she's thrilled with how long this whole takedown of her former stepfather is taking. She's ready to go public with her relationship with Dex and leave all of this secrecy in the past. Is he?
General Hospital Spoilers – Hint Spencer Cassadine Can't Believe It
Spencer has a pretty serious conversation with someone else — possibly Esme. Whatever transpires is going to leave him pleasantly surprised and feeling rather optimistic about the future and what he hopes to see happen.
GH Spoilers — Marshall Ashford Is Grateful
Trina might have some doubts about how important she is to her family, and how important family is in general. It would be easier for her to ignore her broken heart by steering clear of Portia Robinson (Brook Kerr) and Curtis Ashford (Donnell Turner), but Marshall is going to remind her just how vital it is for them to stick together, and how much she means to him.
General Hospital Spoilers – Tease Maxie
Jones

Scores

Maxie is going to bump into Joss on her way to Kelly's, and Joss will be over the moon about making sure she's on stage for the Nurses' Ball. Will Maxie accept her offer though?
GH Spoilers — Valentin Cassadine And Anna Davis Fantasize About The Future
When Valentin asks Anna where things are headed with the two of them, she might be surprised that such a thing is even on his mind. They've both been so consumed with taking his father down that she hadn't given it much thought. It looks like Valentin intends to make sure Anna is a part of his future.
General Hospital Spoilers — March 27 — Cam Webber And Esme Price Come Face to Face
When Cam shows up at Laura's place, he'll be surprised to see Esme potentially headed out the door. Just what does she have planned, and is there a chance he can stop her from making a grave mistake?
Which storyline are you most looking forward to following on GH on Monday, March 27th? Let us know, and keep checking back for more General Hospital news and spoilers.