General Hospital Spoilers: Nina Leads Her Engagement To It's End As She lands Sonny In Jail
General Hospital spoilers reveal Nina Reeves (Cynthia Watros) is driven by a thirst for greed and revenge against Carly Spencer (Laura Wright) that are going to cause her life to implode soon if she doesn't hold up. She has already crossed boundaries that she never should have, but she just can't seem to stop herself. The home-wrecking Metro Court co-owner's obsession with Sonny Corinthos (Maurice Benard) has taken her down a rather dark path.
In Nixon Falls, Nina concocted a plan to keep Sonny all to herself. She went to great lengths to hide Sonny from his family for nearly a year as they grieved the loss and thought he was dead. In her relentless pursuit of continuing to keep Sonny all to herself, she has alienated him from his entire family while pretending to be broken hearted over it.
General Hospital Spoilers — When Will Enough Be Enough?
Not content with stealing Carly's half of The Metro Court, Nina is going to continue to pursue her quest for revenge. She won't be satisfied until Carly is out of the picture — and Sonny's orbit — for good. Ava Jerome (Maura West) tried to warn Nina that she might want to stop digging the deep hole she is clearly stuck in, but digging on through seems like the only way out now. Nina thinks she can sow seeds of doubt to cause Carly and Drew Cain (Cameron Mathison) to turn on one another, but little does she know, Sonny is bent on seeing to it that Carly doesn't suffer the consequences of her own actions — even if it means he pays up instead.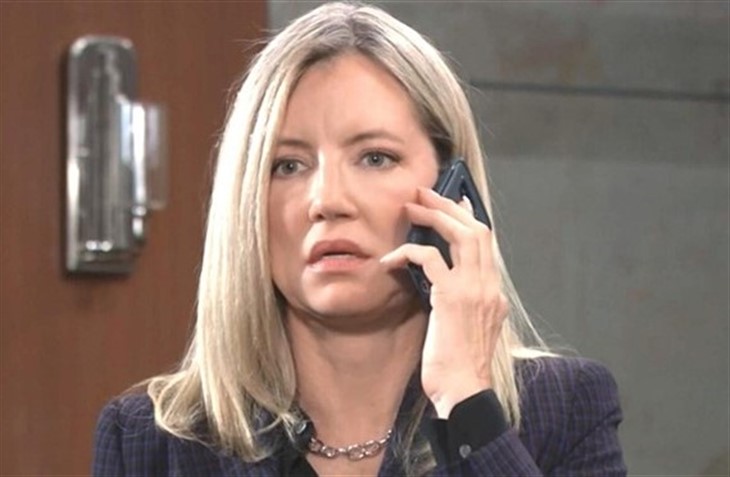 GH Spoilers – Suggest Sonny Corinthos Is Going Away
Sonny can't stomach the thought of Carly spending even a day in jail. That's not what he wants for her or his kids, and even if he has to give up his own happy ending, he's going to forsake himself — for his ex! Yes, it's as wild as it sounds, and it won't be something Nina can wrap her head around. How could he give up everything they have planned — for Carly? Why does she always win out in the end? Nina might zero in on her hatred for Carly right now, but we can trust Ava Jerome (Maura West) is going to be there to give her a dose of reality and remind her that Sonny wouldn't be in prison if it weren't for her.
General Hospital Spoilers — Nina Reeves Isn't Allowed To Stand By Her Man
Obviously, Sonny knows risking his freedom means risking his future with Nina. He won't even bother to consult her when he makes the decision to go around Carly and make a deal with the DA that seals his fate. Turning in evidence on himself is the only way we can really see Sonny weaseling out of this one — even with Diane Miller (Carolyn Hennesy) having his back. If he confesses, he's done for. So we know that's probably not going to happen. Still, Nina might be willing to stand by Sonny as he gets carted off to prison, but he won't allow that for long when he learns she's the one who set all of this in motion in the first place. She better hope he's behind bars when he finds out. Stay tuned for more GH news and spoilers to see how this unfolds.