General Hospital Spoilers: Sonny And Carly Are Getting Married — Drew And Nina Are Out
General Hospital spoilers reveal Carly Spencer's (Laura Wright) and Drew Cain's (Cameron Mathison) love story has been a whirlwind of emotions, from the sweetest and most saccharine moments (ahem, that trip to Jacksonville), to the most trying of times. As they try to build a future together, there's just one obstacle in their way — the unwelcome presence of the SEC. while Carly and Drew strive to overcome this hurdle, there is bound to be a bigger threat lurking in the shadows — the undeniable bond between Carly and her ex-husband, Sonny Corinthos (Maurice Benard).
Though their relationship has been rocky in the past, it's clear that Sonny will always be there for Carly when she needs him most. But can the same be said for Carly, who must confront a difficult choice between protecting her present and aiding her past? As tensions rise and loyalties are tested, we're about to see just who means the most to Carly when times get tough.
General Hospital Spoilers — Insider Trading In The Inner Circle
The SEC made quite the entrance at the Quartermaine mansion on Willow Corinthos' (Katelyn MacMullen) and Michael Corinthos' (Chad Duell) wedding day. Everyone still suspects Ned Quartermaine (Wally Kurth) of being the mastermind behind Carly's detainment on suspicion of insider trading. Still, Carly and Drew were both caught red-handed — well, if you consider the SEC's lofty photo evidence to be so damning. Despite Carly's irritation that he stepped into the role of her caretaker once again, Sonny came to the rescue and created a diversion to help her out. Much like her son, Carly finds it's just easier to demonize Sonny in her mind so she can avoid the torch she's still carrying for him.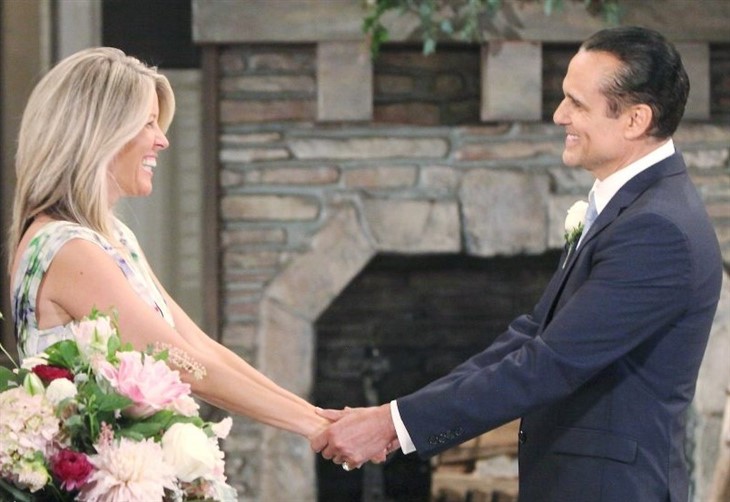 GH Spoilers – Leak Sonny Corinthos Is Headed To The Big House
Michael may have been expecting some drama on his big day, but it looks like his mother's troubles stole the show. No worries, he has no plans to drop the ball on this epic takedown of his dear old dad. Sonny's suspicions about the Pikeman deal may have been brushed off, but as it turns out, he was onto something. Now he's going to be caught in the crossfire with the feds, and without any bargaining chips, he'll be at the mercy of Diane Miller's (Carolyn Hennesy) maneuvering.
Without Jason Morgan (Steve Burton) to hold things down while he's behind bars, what is Sonny going to do? Surely, Dex Heller (Evan Hofer) won't be of any use! Fortunately, Sonny just saved Carly and Drew in a very big way, and she's not going to let that go unnoticed when she has the opportunity to return the favor. Rumor has it Carly will assume the role of mob boss Mrs. Corinthos again when Sonny's business is left flapping in the wind.
General Hospital Spoilers — Wedding Number Five?
When it comes to running the mob world, marriage carries a lot of weight. Carly reminded everyone of this fact when she stepped up and took over Sonny's territory in his absence the last time around. She did a darn good job, too! The Five Families knew they could trust her, but now that Sonny and Carly are no longer together, things could get messy. What will happen to Carly's relationship with Drew if she agrees to a quickie jailhouse wedding to protect Sonny's business? Snap! What about poor Nina Reeves (Cynthia Watros)? Will she get caught up in this mafia family drama? It doesn't sound like Sonny will want her to have any parts in it. Keep checking back with us for more GH news and spoilers just ahead; you won't want to miss how this turns out.