General Hospital Spoilers Tuesday, February 28: Sasha Cornered, Liz's Regret, Austin Turns on Ava? 
General Hospital spoilers for Tuesday, February 28 show that Portia Robinson (Brook Kerr) stuns Jordan Ashford (Tanisha Harper). Ava Jerome Cassadine (Maura West) is stuck. Elizabeth Baldwin (Rebecca Herbst) is happy she can rely on Scott Baldwin (Kin Shriner).
Trina Robinson (Tabyana Ali) isn't giving in. Sasha Gilmore Corbin (Sofia Mattson) shows up for her friends, Willow Tait (Katelyn MacMullen) and Michael Corinthos (Chad Duell).
Liesl Obrecht (Kathleen Gati) confronts Hamilton Finn (Michael Easton). Curtis Ashford (Donnell Turner) and Trina don't see eye to eye.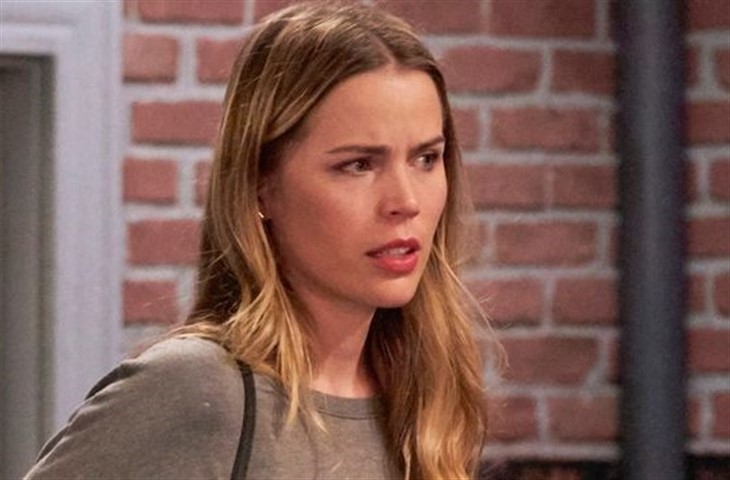 General Hospital Spoilers – Tuesday, February 28, 2023: Portia Robinson Surprises Jordan Ashford
Portia and Jordan touch base again, and this time it's Portia delivering news.
Jordan has been so busy with the events surrounding solving The Hook case, Ryan Chamberlain's (Jon Lindstrom) death, and the chaos on Spoon Island, that she hasn't come up for air to question whether her ex's wedding went off without a hitch.
When Portia tells her what happened, she'll be floored.
GH Spoilers – Say Ava Jerome Cassadine Needs Help
Ava is back at Wyndemere and the police are gone. Austin Gatlin Holt (Roger Howarth) will check out of General Hospital just in time to go check in with her. After his brush with death, though, he may not be willing to entertain helping her out anymore with moving her husband, Nikolas Cassadine's (Adam Huss), corpse.
General Hospital Spoilers — Elizabeth Baldwin Is Grateful To Scott Baldwin
Elizabeth is happy she has Scott in her corner to rely on, but she's not very confident that his plan is going to get her out of trouble. Will Elizabeth be able to skate out of the PCPD with no charges pressed against her if she just takes his advice?
GH Spoilers – Tease Trina Robinson Stands Her Ground
Trina isn't budging. She's furious with her mother and doesn't want to see her or speak to her. That's going to leave some room in Trina's life for her dad — the one who raised her — to support her during this time. There might be some spare time for cuddling with Spencer Cassadine (Nicholas Chavez), too.
General Hospital Spoilers — Sasha Gilmore Corbin Is A Good Friend
Sasha is going to be there for Willow and Michael in all the ways that count. When Sasha and Willow head to Kelly's for a bite, Willow could have a rather big ask of Sasha.
Is she in need of a maid of honor, or is she gunning for something more like a replacement wife and mother for Michael and her children when she's gone?
GH Spoilers – Hint Liesl Obrecht Questions Hamilton Finn
Liesl is going to corner Finn at the hospital and demand he share whatever he knows. Is this about her lab work? Is she a potential match to save Willow's life with a bone marrow donation? Could it be about Elizabeth and whatever is keeping Scott tied up at the PCPD?
General Hospital Spoilers — February 28 — Curtis Ashford And Trina Robinson Disagree
Curtis will pay Trina a visit back at her dorm room — where she's staying full time now since she can't stomach the thought of her mother's presence. If Curtis suggests they might want to get a DNA test, things could go off the rails.
Which storyline are you most looking forward to following on GH on Tuesday, February 28th? Let us know, and keep checking back for more GH news and spoilers.