General Hospital Spoilers Tuesday, March 28: Lucy Furious, Elizabeth Shocked, Victor Suspicious, Anna Frantic
General Hospital spoilers Tuesday, March 28, 2023 reveals Lucy Coe (Lynn Herring) is furious. Cameron 'Cam' Webber (William Lipton) encourages Spencer Cassadine (Nicholas Chavez). Elizabeth Baldwin (Rebecca Herbst) is stunned. Scott Baldwin (Kin Shriner) confides in Laura Collins (Genie Francis).
Diane Miller (Carolyn Hennesy) helps Robert Scorpio (Tristan Rogers). Felicia Scorpio (Kristina Wagner) strategizes with Anna Devane (Finola Hughes) and Valentin Cassadine (James Patrick Stuart). Victor Cassadine (Charles Shaughnessy) is onto Eileen Ashby (Heather Mazur).
General Hospital Spoilers – Tuesday, March 28, 2023: Lucy Coe Is Flipping Mad
Lucy isn't pleased with the way Maxie Jones (Kirsten Storms) is fielding her orders and picking and choosing when to implement her plans. But what's a self-made hostage to do when she's trapped in a safe house with two spies and can't possibly hold Maxie's feet to the fire?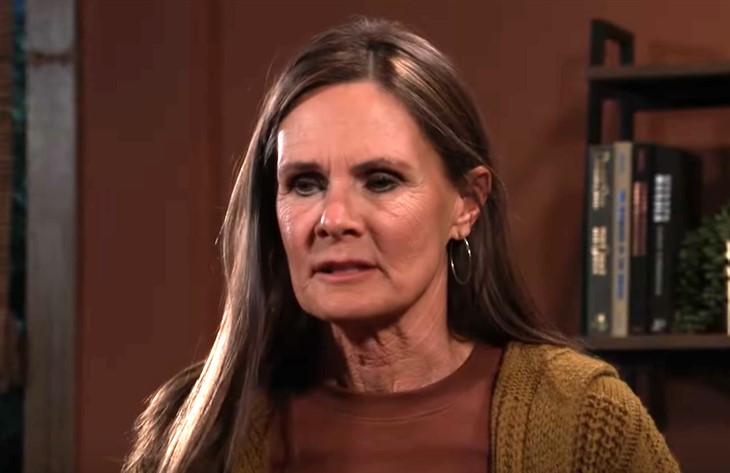 GH Spoilers – Say Cameron Bolsters Spencer's Efforts
Cam's friends might enjoy throwing him a rousing party for his big goodbye, but it sounds like he has something else in mind. Will he bring Esme Prince (Avery Kristen Pohl) on board in hopes of jogging her memory? Are they all about to head to Sonny Corinthos' (Maurice Benard) cabin?
General Hospital Spoilers — Elizabeth Baldwin Can't Believe It
Elizabeth chats with Laura Collins (Genie Francis) and finds out information that leaves her rather baffled. Meanwhile, she'll share with Laura how sorrowful she feels that she has probably lost Nikolas Cassadine (Adam Huss) forever. Perhaps everyone has.
GH Spoilers – Hint Scott Baldwin Opens Up To Laura Collins
Scott is going to air his grievances to Laura, who will listen to him the way she always has. Will Laura's advice for how to get back on Liesl Obrecht's (Kathleen Gati) good side carry any weight with Scotty?
General Hospital Spoilers — Diane
Miller

Assists Robert Scorpio

Diane is going to show Robert how good it is to have her around when he's in a bind. Will her strategic thinking help him get Eileen and the gang out of this mess? Is he ready to clue her into what's really going on — before Holly Sutton (Emma Samms) returns?
GH Spoilers – Tease Felicia Scorpio And Vanna Reconnect
Felicia is back at the safe house and trying to iron out the details with Anna and Valentin. They think they've got Victor right where they want him, but that won't last for long when a call comes in.
General Hospital Spoilers — March 28 — Victor Cassadine Smells A Rat
Things aren't going as planned. The Ice Princess necklace Eileen handed over to Victor is clearly a fraud and he knows it, but will he be able to prove Eileen sold him out, too?
Which storyline are you most looking forward to following on GH on Tuesday, March 28th? Let us know, and keep checking back for more General Hospital news and spoilers.